Ballack - Blues need more
Michael Ballack believes Chelsea should have won more trophies with their calibre of players.
Last Updated: 09/09/11 9:09am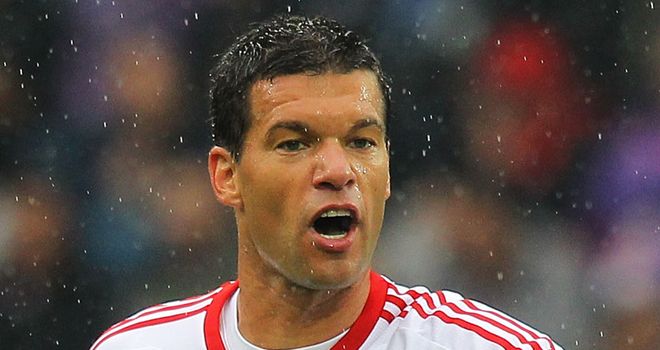 Michael Ballack believes Chelsea should have won more trophies with the calibre of players who have been at Stamford Bridge.
The former Germany international included, world superstars have been lured to Stamford Bridge since Roman Abramovich's takeover in 2003.
Eight trophies have been won in that time, while six different managers have been in charge prior to this summer's arrival of Andre Villas-Boas.
And Ballack, who will be a part of the Bayer Leverkusen squad to face Chelsea in the UEFA Champions League next Tuesday, thinks that represents an underachievement.
"Chelsea should have won more trophies with their squad because the quality is there. The ambition was there and you can see what the club has spent on players," he said in The Times.
Fall from grace
"Changing the manager every year did not help, but you cannot expect to have a situation like Sir Alex Ferguson at Manchester United."
Ballack himself is a two-time Champions League runner-up, including with Chelsea in 2008, but he does not think Europe's premier competition will elude his ex-club forever.
He said: "The Champions League may come for Chelsea when they're not expecting it."
Ballack has suffered a painful fall from grace since leaving Chelsea when his contract was not renewed in 2010.
After suffering an ankle injury in the FA Cup final against Portsmouth, the now-34-year-old missed the World Cup finals and has since been told he has no future at international level.
No secret
Ballack is also a bit-part player for Leverkusen and is only likely to be on the bench against Chelsea next week.
He said: "It still hurts that I don't play for Germany anymore, but it's not like it was eight weeks ago. I'm still not happy, that's true.
"It's no secret, I've talked a lot about it. The really frustrating thing is that I never got a chance, especially in the national team.
"After the injury, things happened that I didn't expect. I learnt a lot from it, but I'm not angry. I only get angry with the people who are close to me.
"I'm not angry because these people can't hurt me anymore. It could be better for me personally, but that is life."