Rodgers praises Blues duo
Brendan Rodgers insists Chelsea duo Fernando Torres and Frank Lampard are still the ones to watch this weekend.
Last Updated: 22/09/11 6:08pm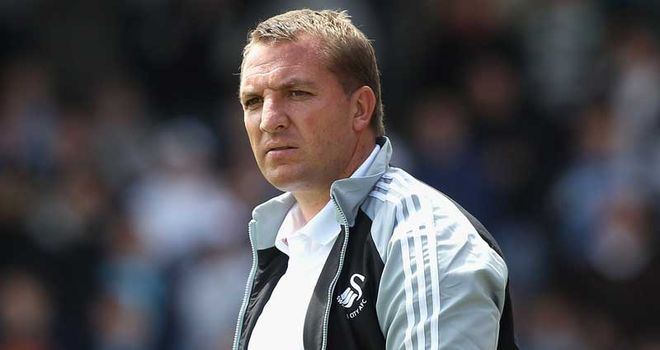 Swansea City manager Brendan Rodgers insists Chelsea duo Fernando Torres and Frank Lampard are still the ones to watch this weekend.
Rodgers, who worked as youth team and reserve team manager under Jose Mourinho at Stamford Bridge, goes head-to-head with his former employers on Saturday.
The Swans boss watched Torres in action during his Atletico Madrid days and still believes he is a class act despite an indifferent spell at Chelsea.
World class
"He is a class player, I remember going to watch him for Atletico Madrid, they were playing Barcelona at the Nou Camp," Rodgers said of Torres.
"He was captain of Atletico Madrid and they won 3-1, he was fantastic and scored two goals. He was such a talent and at that point in time he was a real catalyst for Atletico.
"He has had a tough time with injuries, he is adapting to a new team, but there is no hiding the fact that he is a world class striker and he will return to that form."
Rodgers believes there were signs at Old Trafford that Torres is recapturing his form, despite his failure to find an empty net late on.
He continued: "The miss is a funny one, he did well and it was a great bit of skill to beat the man and beat the goalkeeper. He will feel he should have scored and he should have scored but you move on.
"You have to work things through, confidence is about goals and games, simple as that.
"What I enjoyed about Torres last week was that he was aggressive again. That's the mark of him, he has wonderful ability but he was aggressive in his game.
"There is no doubt he is one of the world's leading strikers and I'm sure Andre (Villas-Boas) and his staff will want to make sure his confidence is high."
Hunger
Meanwhile, midfielder Lampard, who had a spell on loan at Swansea early in his career, has been written off as being past his best at the age of 33.
"Lampard will be like Javier Zanetti at Inter Milan because he looks after himself and has a hunger. At a certain age people write players like him and John Terry off, but it's wrong to write off players like that," he continued.
"That's why I know Saturday will be very tough for us as they are players who will never lie down.
"Look at what Frank has done regularly over the last seven or eight years. I think he is third or fourth on the all-time scoring charts at Chelsea, as a midfielder.
"He has an in-built brain for football, to arrive in the box to score goals.
"I know how fit and strong he is and he will want to play as long as he can, which may mean he has to adapt his role but that won't be in the next couple of years."