Willian wants Chelsea move
Shakhtar Donetsk's Brazilian international midfielder Willian insists he would relish the chance to join Chelsea this month.
Last Updated: 26/01/12 4:42pm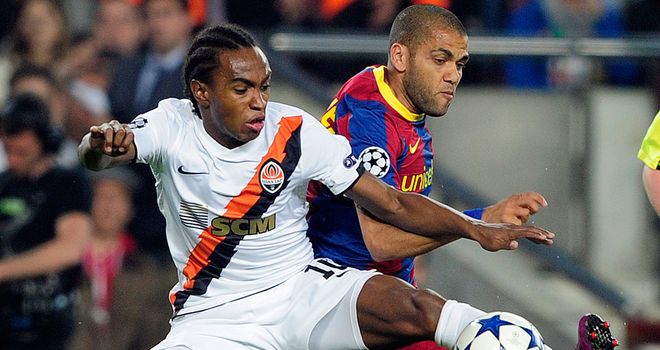 Shakhtar Donetsk midfielder Willian insists he would relish the chance to join Chelsea this month.
The Blues have had a £16.5million bid rejected for the Brazil international, with Shakhtar standing firm over their valuation.
Willian, 23, has a release clause of around £29million, although it is believed a bid in excess of £20million could be enough.
And the Shakhtar man admits he has already thought about getting the chance to play in the Premier League.
"I wouldn't have any fears about coming to England because I have played against English sides in the Champions League and studied the English game," he told The Sun.
"To play in a league that is seen throughout the world would be good for my hopes of playing regularly for Brazil, especially with the World Cup at home in two years' time.
"That is my aim. I've worked hard for four years to establish myself in the national team.
"It has taken that long but now I feel I have a good relationship with the coach and I want to keep working hard, so I remain in the side.
"There are times when you look at your life and realise how lucky you've been.
"I've played for a great club in Corinthians and been successful. I moved to Shakhtar and that turned into a great move too.
"There was talk about Barcelona and Arsenal before but now Chelsea are interested.
"If the next step of the adventure is England, then I would be excited by that."
Brazilian lure
Willian admits current Chelsea stars David Luiz and Ramires have talked up the prospect of moving to Stamford Bridge.
"I have friends in the Brazil side who play for Chelsea, like David and Ramires," he continued.
"All they talk about is the thrill of being in a city like London and playing for a club like Chelsea.
"I've known David since we played together in the Brazil Under-20 side and he talks about what Villas-Boas is trying to build at Chelsea.
"He and Ramires feel he wants a core of young players who can mature and grow together but also be successful.
"David says how the coach takes a real interest in all his players, how he can adapt different cultures together and bring the best out of them.
"Then obviously there is life in London. David and Ramires say there's nothing like it anywhere else in the world - it's exciting and challenging at the same time."