Abramovich returns to Cobham
Chelsea owner Roman Abramovich has again spent time at his club's training ground as he examines Andre Villas-Boas.
Last Updated: 07/02/12 8:23pm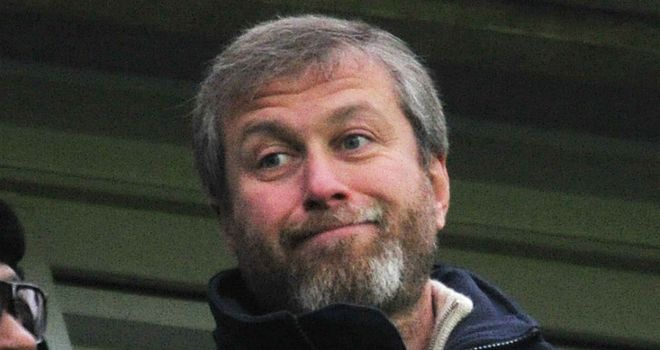 Andre Villas-Boas remains under close examination from Roman Abramovich after the Chelsea owner on Tuesday again spent time at his club's training ground.
The Blues' billionaire owner has since last summer been conspicuous by his absence from the club's Cobham base.
But Abramovich on Saturday made what is thought to be his first training-ground visit of the season, spending more than half-an-hour watching the preparations for Sunday's 3-3 Premier League draw with Manchester United and 20 minutes speaking with Villas-Boas.
Chelsea on Monday denied claims the pair had been engaged in 'showdown' talks, following a report Abramovich had become frustrated with results that have left them 14 points behind leaders Manchester City and only one away from dropping out of the top four.
But it seems clear Abramovich has elected to resume a more active interest in the club he has poured £1billion of his fortune into, having also spent half-an-hour speaking to players after watching them blow a 3-0 lead against United.
Villas-Boas was on Monday night relaxed about the Russian's weekend visit, saying it had a "good impact".
Project
He added: "Roman is always very interested in the running of events and it was good for the team to feel his presence.
"We touched a little bit, of course, on next year's project, but mainly on that (United) game.
"Roman is a very educated person to the cause of Chelsea football club and his aura is always present."
Chelsea on Tuesday night maintained there was nothing sinister behind Abramovich watching training, while Villas-Boas has repeatedly declared he has no doubt he will still be manager next season.
The Russian has certainly shown more patience with the 34-year-old than with his predecessors, seemingly recognising the need to overhaul an ageing squad.
But it will be exactly three years on Thursday since Abramovich sacked Luiz Felipe Scolari after beginning to fear Chelsea would not qualify for the UEFA Champions League and they are in an even worse position now than they were then.