Cech - We need to help AVB
Petr Cech admitted after the 3-1 loss to Napoli that everything had gone wrong for Chelsea but said Andre Villas-Boas should not be blamed.
Last Updated: 21/02/12 10:50pm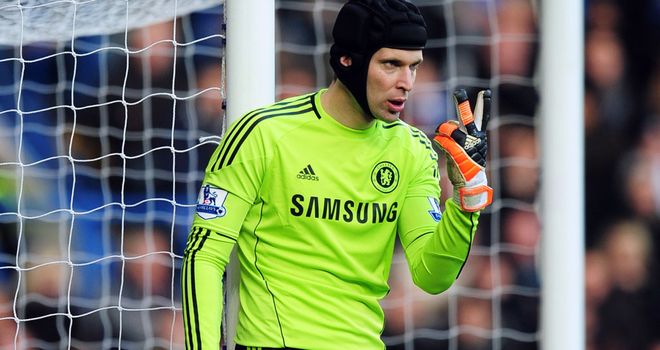 Petr Cech admitted after the 3-1 loss to Napoli that everything had gone wrong for Chelsea but insisted that Andre Villas-Boas should not be blamed for individual mistakes by players.
Ezequiel Lavezzi scored twice and Edinson Cavani also found the target as Chelsea's shortcomings were exposed after taking the lead through Juan Mata, leaving the Blues with an uphill task in the second leg of their UEFA Champions League last-16 tie.
The poor display of defending in Naples will also fuel discussion about the future of Villas-Boas, but goalkeeper Cech has backed his beleaguered boss.
He told Sky Sports: "We know he keeps working hard for the team.
"He prepares every game with 100 per cent commitment and we appreciate it as players.
"But if you have players on the pitch making mistakes he can't help it.
"The problem is on the pitch where we don't transfer our good work on the training ground."
Amazing
Whilst disappointed with the amount of chances that Chelsea presented to Napoli, Cech feels they can turn around the two-goal deficit and make it through to the quarter-finals.
He said: "I think it was an amazing game for the supporters to watch, there were a lot of counter-attacks, shots and chances.
"But if you come to a place where they are strong at scoring and leave them so many moments you can get punished.
"We went 1-0 up and had a spell where we controlled the game but they got a goal just before half-time that made a difference because they could sit back and wait for the counter-attack.
"We tried to score and it became dangerous for us as they looked for a third goal."
Fight
Cech continued: "When everything goes wrong you have a rebound like we did for the third goal. The bounce went in the perfect place for them.
"We always say we keep working hard on the training ground but unfortunately we don't seem to transport that that on the pitch.
"We have quality players who can turn it around but it could be better because we don't have time to recover. We have a lot of games coming up and we are not in a position to drop many points in league.
"It's not an ideal situation but we are still in the Champions League and we will fight to the end."