Lamps - Situation not ideal
Frank Lampard has voiced his frustration but does not want to focus on individual relationships following talk of a rift with Andre Villas-Boas.
Last Updated: 26/02/12 10:56am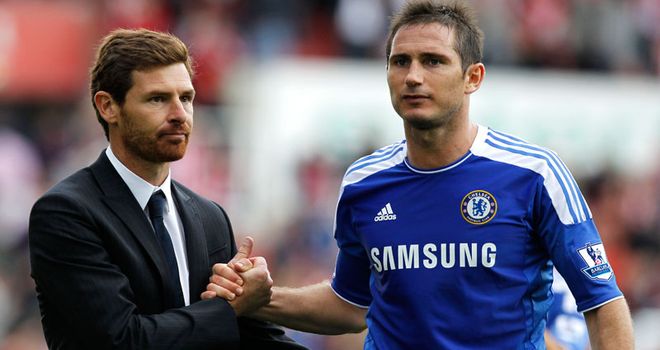 Frank Lampard has admitted it is frustrating to sit on the bench and watch Chelsea struggle but does not want to focus on individual relationships too much following talk of a rift with Andre Villas-Boas.
Lampard's relationship with Villas-Boas has been the subject of scrutiny this season, with the midfielder no longer assured of a regular starting role after years of being a permanent fixture in the side.
Villas-Boas has denied falling out with senior players and again defended his rotation policy following Saturday's 3-0 victory over Bolton, when Lampard was made captain and responded with the third goal of the game.
It was the first win in almost a month for the Blues, who are battling to secure UEFA Champions League qualification for next season and are in danger of seeing their current European campaign come to an end after a 3-1 first-leg loss to Napoli.
Lampard admits there have been 'certain issues' but feels it is healthier for everyone at the club to concentrate on picking up results.
Negative
"I think, from the outside, you can probably see that it's not been ideal but the important thing is not to focus on individual relationships too much," he said.
"It can only be negative and people do like to play on negatives.
"There have been certain issues. Certain players, we don't like not to play. But it's never a case of players throwing their toys out of the pram to the detriment of the club.
'I've been here a long time, I'm 33, I'm realistic. It doesn't mean I want to play every game but, if I sit on the bench, I want to see Chelsea win.
"I'm sure we're all frustrated at the minute, everyone who's involved, especially people who have got Chelsea in their hearts, who have been here a long time and want to see us performing as we should do."
Lampard hopes Chelsea can build on their victory over Bolton and go on to enjoy a successful end to the season.
He explained: "The only way we can push on from now and secure Champions League football next year, potentially move through in the FA Cup and the Champions League this year, is to be positive. It's in the club's interest.
"It's not about any one individual here and negative things can take the shine off it."