Di Matteo - Players on board
Roberto Di Matteo defended his decision to leave out some key players as Chelsea reached the FA Cup quarter-finals with a 2-0 win at Birmingham.
Last Updated: 07/03/12 8:05am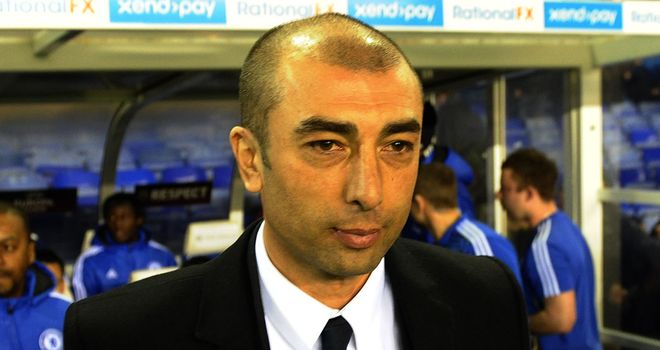 Chelsea caretaker manager Roberto Di Matteo defended his decision to leave out some big-name players as his side reached the FA Cup quarter-finals thanks to a 2-0 win at Birmingham.
The Italian left Frank Lampard, Didier Drogba, Michael Essien and Daniel Sturridge out of his starting line-up at St. Andrew's.
But his decision was justified as second-half goals from Juan Mata and Raul Meireles took the six-times FA Cup winners through to a meeting with another Championship side, Leicester.
And Di Matteo told Sky Sports News: "It was nothing to do with bravery (leaving out his big name players). They're all on board and they know what target we have, which we must achieve.
"There are big players for this club and we have a squad and we have to utilise the squad because we played on Saturday, played tonight, we play again on Saturday now, so we have to get the best out of these players and the team."
Asked if those players were rested with some big games coming up, the former Chelsea midfielder said: "It was just a question of freshening up the team a little bit, giving some fresh legs and some energy for a game like this because we knew we had to fight and so that was the only idea."
Difficult time
Di Matteo, who is in charge for the remainder of the season, admitted: "It has been a difficult time.
"It's been difficult for the whole club. When events like this happen... we've lost a great guy (Andre Villas-Boas).
"But you have to deal with it. Tonight we had to focus on this game and move on as a club, put it to one side and move forward."
Di Matteo side-stepped questions over whether he would be interested in taking the role on a permanent basis at Stamford Bridge - if offered the chance.
He said: "Would I take it? I'm very tired tonight. I have to think about Stoke City from an hour's time onwards, and that's all I'm thinking about.
"Think whatever you want to think. I'm not thinking about anything else."