Cech - Let's rescue season
Petr Cech says Chelsea's players must 'come to terms with' the managerial change and try to salvage something from their campaign.
By Vasek Kadlec
Last Updated: 07/03/12 6:57pm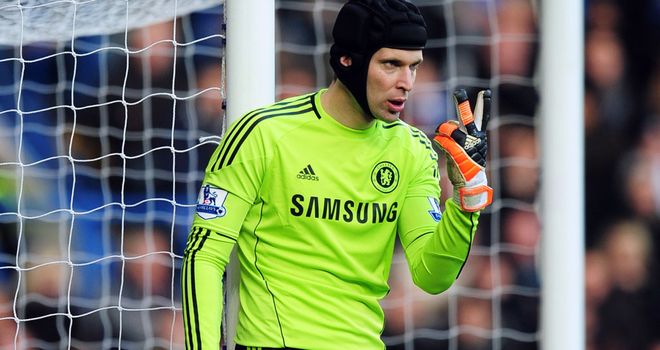 Petr Cech says Chelsea's players must 'come to terms with' the managerial change and try to salvage something from their campaign by winning the FA Cup and finishing fourth in the Premier League, as well as advancing in the UEFA Champions League.
The Blues face an uphill task to make the European quarter-finals after losing 3-1 to Napoli in the first leg of their knockout tie, but Cech has been encouraged by how close Arsenal came to overturning a 4-0 deficit against AC Milan on Wednesday.
Chelsea are still very much in contention for FA Cup glory after beating Birmingham 2-0 in a replay to book their place in the last eight, in what was the first game since Andre Villas-Boas' sacking on Sunday.
Villas-Boas was dispensed with 24 hours after a 1-0 defeat by West Brom left Chelsea three points adrift of Arsenal in the race for fourth, and Cech is determined to secure Champions League football for next term.
The goalkeeper says everyone in the squad is focused on pulling together under interim boss Roberto Di Matteo.
"The management have decided for a change and us players have to come to terms with it, whether we like it or not," Cech told his own personal website.
"We didn't have results and need to do all we can to rescue the season. That means to try and win the FA Cup, finish at least fourth in the Premier League and try to progress in the Champions League.
"It is not unreal. Arsenal were four goals behind on aggregate and you saw, anything is possible. They almost managed to turn it around."
Important
Cech was delighted to progress past Birmingham at St Andrew's after a draw in the original game at Stamford Bridge, with goals from Juan Mata and Raul Meireles sealing victory after another hard-fought first half.
"We are glad to have advanced," said Cech, who was named captain for the night.
"Our performances this season have not been like we would have imagined and this is why it was important to remain in the FA Cup.
"We played a good game even though it was not easy at all. The pitch was in a bad state and it was very difficult to give short passes. That was not ideal for us and if anything, it suited Birmingham more.
"It was important to keep a clean sheet while it was 0-0. The clean sheet pleased me as much as the armband.
"It was just about who would score first. Thanks to our determination and will we did that and then the difference in quality between the two teams showed.
"We scored another goal and could have added more."