Szczesny - We know who's boss
Wojciech Szczesny has suggested that some of the English players at Chelsea run the club and says there is no player power at Arsenal.
Last Updated: 08/03/12 12:30pm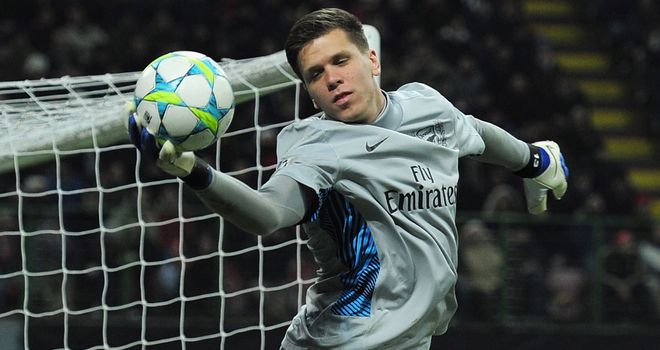 Wojciech Szczesny says Arsenal have been able to turn their season around because everyone is fully behind manager Arsene Wenger, and has suggested that some of the English players at Chelsea run the Stamford Bridge club.
Both London sides have had difficult campaigns but Szczesny has now highlighted what he believes are the key differences after seeing Arsenal enjoy a revival in recent weeks.
The Gunners bowed out of the UEFA Champions League on Tuesday but could take a lot of pride from a 3-0 victory over AC Milan in the second leg, while they have also beaten Tottenham and Liverpool to move into pole position in the race for fourth place in the Premier League.
Szczesny puts the improvement down to a spirit of togetherness and determination to do well for Wenger, who has had to contend with criticism at various points this season.
"We have a fantastic manager who knows how to run the club," the goalkeeper said in The Sun.
"All the players believe in what he's doing.
"Sometimes things don't go our way but we believe in the way the manager runs the club, the way we want to play football.
"In doing that, we know that even if things are wrong we're going to turn it around and win games - and that's what we have done in the last few weeks. Hopefully we can keep doing it."
Completely different
While Wenger has been at Arsenal since 1996 and Szczesny insists he still retains the respect of everyone in the squad, Andre Villas-Boas failed to see out his first season at Chelsea after being sacked over the weekend following months of speculation about his future.
Reports have suggested that there was a rift between Villas-Boas and some of the senior players in the Blues dressing room, and that is something Szczesny says would never happen at Arsenal.
"Arsenal is a little bit different to Chelsea," said the 21-year-old.
"I think some of the English lads at Chelsea run the club, pretty much. You know, they've had about 10 different managers in the last few years.
"So it's completely different at this club and we knew that sooner or later we were going to get a result.
"I'm sure Chelsea will pick themselves up sooner or later - but hopefully not soon enough to get in front of Arsenal."
Speaking about how player power could affect a club, Szczesny added: "I don't know because we're all even at this club, I've never experienced it in my life.
"We have the boss and we know who is the boss in the dressing room - and that's Arsene Wenger, obviously, and the skipper Robin van Persie, who is the leader in the team.
"But we're all even in the dressing room, and so I can't really say anything about it, I've never experienced it."