Di Matteo - Everyone's on side
Roberto Di Matteo has defended Chelsea against accusations that the players wield too much power after speaking to his senior men.
Last Updated: 10/03/12 9:09am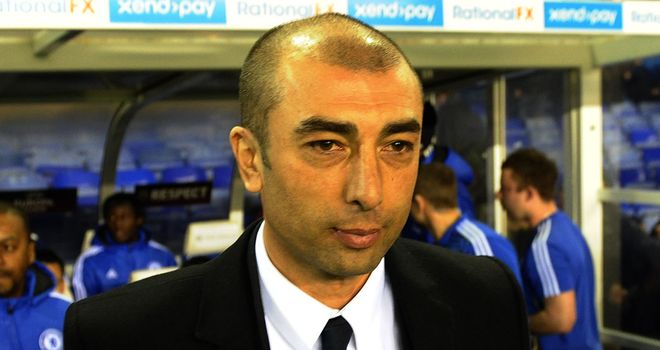 Roberto Di Matteo has defended Chelsea against accusations that the players wield too much power after speaking to most members of his squad individually.
The Blues are on the lookout for a new boss after Andre Villas-Boas was sacked last weekend just eight months into a three-year contract, with Di Matteo given the reins on an interim basis and set to take charge of his first Premier League game against Stoke on Saturday.
The end of Villas-Boas' time in charge was surrounded by reports of a rift between the manager and some of the senior players in the Chelsea squad.
A number of those players have since admitted that everyone at the club must shoulder the blame for what has gone wrong this season, with the Blues in danger of missing out on UEFA Champions League qualification for next term.
Di Matteo said on Sky Sports News: "It is a collective responsibility when things are not going well. It touches everybody, the management and the players."
Asked whether it was a difficult dressing room to control, Di Matteo smiled: "Ask me in a few weeks, or months maybe. I have only been in charge for six days."
Arsenal goalkeeper Wojciech Szczesny this week suggested that the English players at Chelsea 'run the club', but Di Matteo was defiant in his response to those claims.
"I would say that he does not know this club," he said.
Asked if he had spoken to the likes of Frank Lampard and John Terry and had the backing of the squad, Di Matteo added: "I feel I have everybody on side.
"I have spoken individually to almost all of them over these five days because I believe this is a team effort and we need everybody to be able to pull in the same direction.
"They all know what the task is for the next two months of the season and they are all on board."
Keeping it simple
Meanwhile, Di Matteo is not looking too far ahead as speculation continues over the identity of the next permanent Chelsea manager.
Reports continue to link various high-profile names with the post but Di Matteo does not believe it is his place to offer an opinion on who might be appointed.
Asked about whether he would be interested in keeping the role long-term, the Italian insisted that he was concentrating on one game at a time.
"There is a lot of speculation and it is not for me to comment on what is going to happen in the future," he said.
"I have to win a game tomorrow against Stoke and the club will make the appropriate decisions when the time is right.
"For me it is very simple. I know what my task is tomorrow and after tomorrow I focus on the next one.
"For now I have quite enough on my plate just trying to win the next game."