Torres issue is 'psychological'
Caretaker boss Roberto Di Matteo admits misfiring Chelsea striker Fernando Torres has a 'psychological problem' he needs to overcome.
Last Updated: 13/03/12 8:30am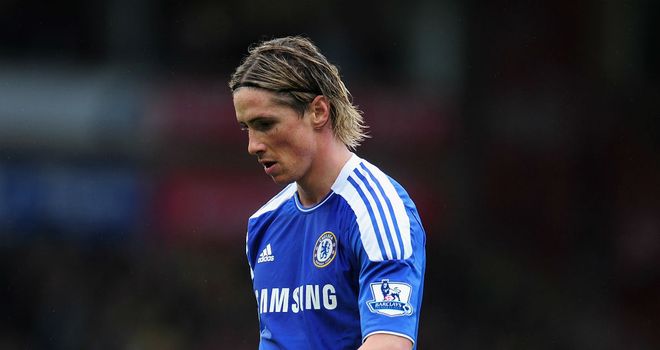 Chelsea's caretaker boss Roberto Di Matteo admits misfiring striker Fernando Torres has a 'psychological problem' he needs to overcome in order to start scoring again.
The Spaniard has failed to make an impact at Stamford Bridge since arriving from Liverpool for £50million last January, scoring just five goals in 13 months.
Di Matteo, who dropped Torres to the bench for Saturday's 1-0 win over Stoke, believes the 27-year-old's problem is in his head.
Psychological
He told The Sun: "He has a psychological problem and only Fernando can unlock it.
"If he needs me, I am always here but it is obvious the change must come from him.
"He must not think about how much he cost the club.
"He must concentrate only on playing and not about scoring, or providing an assist or making a great play every time he touches the ball.
"He should not think about scoring goals, only about playing simple football. The rest will take care of itself.
"My approach with Fernando will always be a natural one."
Torres could get another chance to break his goal duck on Wednesday night when Chelsea host Napoli in the UEFA Champions League last 16 looking to overturn the Serie A side's 3-1 first-leg advantage.
Lacking confidence
Di Matteo admits the striker is lacking confidence but is certain he will eventually rediscover his previous goalscoring form.
"He just needs to regain his confidence," he added. "Fernando is still a great striker and I am sure he has not forgotten how to score goals.
"He is one of the strongest forwards in the world.
"He has scored so many goals in recent years and I'm sure he will continue to do so in the future. He will succeed because he is still young."