Di Matteo rebuilding belief
Interim first-team coach Roberto Di Matteo is attempting to return the 'spirit of sacrifice' to the Chelsea squad.
Last Updated: 16/03/12 3:16pm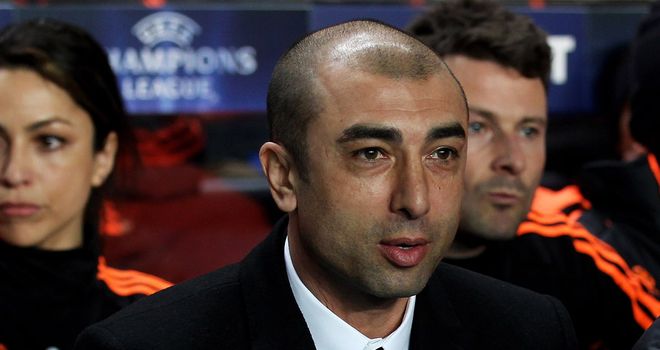 Interim first-team coach Roberto Di Matteo is attempting to return the 'spirit of sacrifice' to the Chelsea squad.
The Italian has helped the club to three wins out of three in all competitions since succeeding Andre Villas-Boas on a temporary basis until the end of the season.
Chelsea's most recent success was Wednesday's UEFA Champions League classic against Napoli, which has led to a quarter-final against Benfica, and it provided further evidence of renewed fortunes.
Villas-Boas' sacking was partly caused by a reportedly fractured dressing room and ex-Chelsea midfielder Di Matteo, formerly an assistant manager, acknowledges a rebuilding job is necessary.
Passion
"Every win gives you a little bit of confidence and we won against Birmingham and Stoke, then we won the other night and that brings a little belief back into the team, the players, and it's pleasing to see that," he told Chelsea's official website.
"At the end of the day, we are in a results business and that's what makes the difference.
"I've been trying to speak to the players individually and focus them on the next task, to try and get [them feeling] the responsibility and make them aware of our targets, to bring a little bit of team spirit back, the spirit of sacrifice and passion for the game.
"I am looking to the future and we just have to get results. That's what we are focusing on."
On the immediate horizon for Chelsea is Sunday's FA Cup quarter-final against Leicester at Stamford Bridge.
Intense
Captain John Terry and central defensive partner David Luiz were both injury doubts for the game against Nigel Pearson's Championship club, but Di Matteo believes the pair will be okay.
"I think they will both be available for the weekend," he said. "There are a few knocks and bruises, it was very intense and physical (against Napoli), but we expect everybody to be ready for Sunday.
"We have everybody fit, the whole squad, and we will need everybody. I am quite pleased. It's difficult for some games to leave certain players out, but we have such an intense schedule that it's great to be in this position.
"We obviously have to take into consideration that we played extra time on Wednesday and will try and put the strongest team available out to win the game.
"I don't know yet, we still have to see, we have two days and I have to check tomorrow how people have recovered from the game and we will think what the best solution is."