Di Matteo denies conspiracy talk
Roberto Di Matteo has slammed suggestions he stabbed Andre Villas-Boas in the back in the lead up to him being axed by Chelsea
Last Updated: 20/03/12 8:22am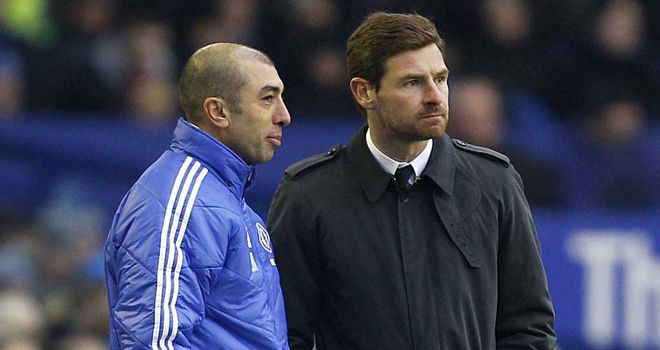 Roberto Di Matteo has slammed suggestions he stabbed Andre Villas-Boas in the back in the lead up to him being axed by Chelsea.
Di Matteo worked alongside the Portuguese coach during his troubled time in charge at the club and says there was no fall-out between them before Roman Abramovich decided to axe Villas-Boas.
Some reports have suggested Di Matteo may have conspired against Villas-Boas, but the Italian has blasted the rumours.
"I did my best and Andre knows it," Di Matteo told Eurosport.
"I did not conspire against him and all the decisions we took, we took together.
"I have always behaved with the utmost professionalism and loyalty towards the club, the staff, the team and fans."
Di Matteo, who has guided Chelsea to four wins out of four since replacing Villas-Boas, believes he deserves his chance of managing the Blues until the end of the season.
"I deserve my new role," added Di Matteo. "How can you hesitate when you have the opportunity to manage one of the most important football clubs in the world?
"All new managers inevitably replace a colleague when things go wrong or results are not up to expectations. This is the nature of football."
Legend
Meanwhile, Chelsea keeper Petr Cech has praised the impact Di Matteo has had on the side and believes his status of a Blues "legend" has helped him win over the players so quickly.
"He understood quickly what he has in the team," noted Cech. "You can see he's Chelsea through and through, a Chelsea legend.
"It helped in terms of the general atmosphere and the reception of the fans. When you have a person who is a legend at the club leading the team, the fans give you more time and give you a chance.
"The atmosphere at the stadium was much more positive. Wednesday against Napoli was absolutely amazing. It reminded me of the game we played against Barcelona in my first season when the stadium was rocking.
"We've done well with him as manager and hopefully we can extend that to end of the season. Sometimes you have a great manager and things don't go well. Sometimes you have someone who just comes and everything changes. It's a matter of luck and football is crazy like that.
"I still think that Andre is a fantastic manager, full of knowledge about football. He will always be successful because he really knows about the game. The problem was that when we played on the pitch we didn't have luck and we didn't play well. That's why he left.
"We know the next two weeks could be absolutely fantastic. We're in the quarter-finals of the Champions League, the semi-finals of the FA Cup and after our next two league games we could be third."