Di Matteo hails Blues strength
Roberto Di Matteo believes Chelsea have enough strength to win at Manchester City on Wednesday.
Last Updated: 20/03/12 4:27pm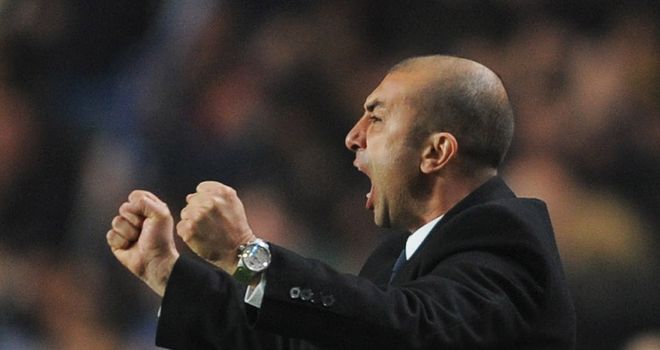 Caretaker Chelsea boss Roberto Di Matteo believes the Blues have enough strength to win at Manchester City on Wednesday - even without skipper John Terry.
Andre Villas-Boas' final pre-match press conference before being sacked as Blues boss saw the Portuguese brand City's playing pool "a lot better" than his own.
But Di Matteo is confident his side can go toe-to-toe with Roberto Mancini's men, who have won all 14 home Premier League games so far this season.
Asked if he believed Chelsea were capable of taking City on, Di Matteo said: "Yes, I do."
Strong
He added: "I think we have a very good team and squad, a very strong one, and we've shown it over the years.
"The table shows that they (City) have won more games this season than we have. But, I think we are very competitive."
But the Blues will have to do so without captain Terry, who Di Matteo revealed would miss the game after over-exerting himself in the two matches he has played since his remarkable recovery from knee surgery.
But even with the absence of Terry, Di Matteo thinks he still has plenty of big-match experience in his side.
Factor
He added: "We've got a lot of players that have played many, many important games and crucial games and Premier League games, and that is certainly a factor that is within our team."
Regarding City winning all 14 of their home match, Di Matteo said he knew the stats.
"They're obviously very strong at home, everybody knows that," he said. "But every run comes to an end."