Bolton memories haunt Cahill
Gary Cahill admits he is keen to forget his FA Cup semi-final experience ahead of Chelsea's meeting with Tottenham.
Last Updated: 12/04/12 5:19pm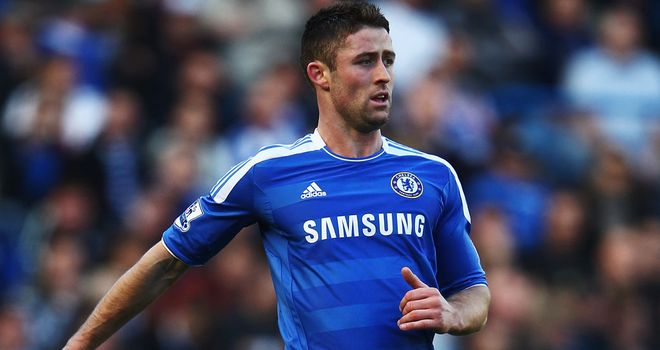 Gary Cahill admits he is keen to forget his FA Cup semi-final experience ahead of Chelsea's meeting with Tottenham on Sunday.
Cahill was part of the Bolton side that lost 5-0 to Stoke City at Wembley last season, which delivered a crushing blow at the end of their campaign.
They lost five out of their six remaining Premier League games last season following the defeat at Wembley and struggled at the start of the current campaign.
Stoke were 3-0 up after half an hour, immediately denying the Trotters a chance to reach their first cup final in 53 years.
Cahill is likely to line-up alongside John Terry for the London derby and he insists he is desperate to erase last season's memory.
He said: "That game is not a fond memory; it's something that hurt at the time and still hurts me now.
"But now I have a chance to put that right on Sunday. I have no idea why that result happened.
"People said: 'Did you freeze?' No, we didn't.
"Everything seemed to be going really well for us as a team in the league, and it was as if everyone had a bad day all at once.
"It was just a freak result. It was a freak game."
Chelsea face a crucial set of fixtures over the next few weeks as they play Barcelona in the first-leg of the Champions League semi-final just three days after their FA Cup fixture.
They are also aiming for fourth place in the Premier League table as they look to reach the Champions League again next season.
Sandwiched between the games against Barcelona is a Premier League clash at Arsenal, and Cahill understands the importance of the forthcoming matches.
He said: "It is a defining moment in the season.
"The lads are confident but obviously we realise how big the games on Sunday and Wednesday are.
"When you sign for a big club you are aware that they will challenge for trophies year in, year out and this year they are challenging for trophies again so being a part of a team that wins a trophy would be fantastic.
"It would be amazing for me to win my first trophy but there are hurdles before you can even think of that and we have a massive one on Sunday.
"They (Tottenham) are a hard team to beat. Harry Redknapp is a fantastic manager and he has turned them into a real force this season so it will be a tough game."