Kalou yet to decide future
Chelsea forward Salomon Kalou will make a decision on his future after the UEFA Champions League final.
Last Updated: 12/05/12 3:12pm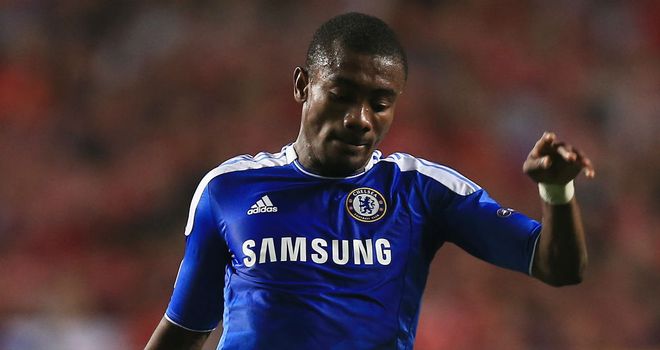 Chelsea forward Salomon Kalou will make a decision on his future after the UEFA Champions League final.
The Ivorian is out of contract in the summer and has been linked with a return to former club Feyenoord.
But Kalou, who was out of favour under ex-Chelsea boss Andre Villas-Boas before featuring regularly under Roberti Di Matteo, is in no rush.
Ahead of next Saturday's final against Bayern Munich in Germany, the 26-year-old first wants to add the Champions League to the trophies he has won since moving to England in 2006.
Kalou is quoted as saying in The Sun: "I'm one step away from winning the Champions League. After that I can decide.
"I just want to win the Champions League. If I do, I will have won every trophy possible with Chelsea and that was my goal when I signed for the club."
Meanwhile, Chelsea's failure to finish in the Premier League top four has made them even more desperate to win the Champions League, according to Juan Mata.
History
The opportunity to be crowned kings of Europe for the first time would seem motivation enough for the Blues to beat Bayern in their Allianz Arena showdown.
But playmaker Mata says the prospect of failing to qualify for next season's competition had given him and his team-mates an added incentive to upset the odds.
"We want to win for the club, and for us, because we can make history for Chelsea," he said. "But, as well, it's important to play in the Champions League next year.
"Chelsea always want to be in the Champions League."
The Blues have not been out of the competition since Roman Abramovich bought the club nine years ago.
But they have paid the price for a turbulent season which saw Villas-Boas sacked as manager almost 10 weeks ago.
"It hasn't been an easy season for us in the Premier League," Mata said ahead of Saturday's final league game of the season against Blackburn.
Amazing season
"We are in sixth position, so it's not what Chelsea deserves. But we won the FA Cup, we have the chance now to win the Champions League as well. So, if we win both, it will be an amazing season for us."
The fact Chelsea are on the brink of such a historic season is down to the players and caretaker manager Di Matteo.
"Robbie's a very good guy, a very good person," Mata said of the former Blues midfielder. "He has character, he knows Chelsea.
"He used to play, now he's training. So he's a very good manager and we are all with him."
Mata, who was signed by Villas-Boas last summer, would not go as far as backing Di Matteo for the manager's job full-time.
He said: "We don't know, we don't know. It's not our job. But I think all of us are happy with him. We have to win the final of the Champions League and now that's it."