Terry - It was meant to be
John Terry believes it was 'meant to be' after Chelsea won the Champions League and was thrilled to be part of the trophy celebrations.
Last Updated: 20/05/12 9:39am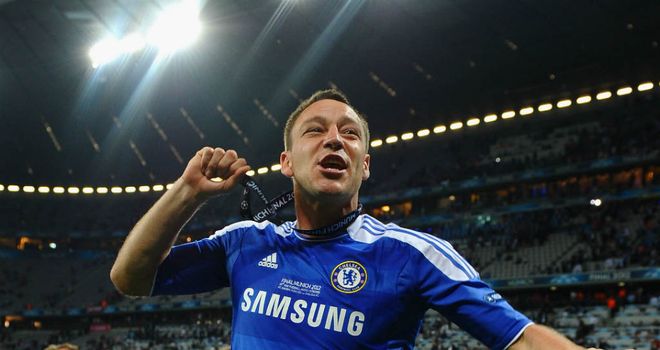 John Terry believes it was 'meant to be' after Chelsea won the UEFA Champions League and thanked Frank Lampard for allowing him to be part of the trophy celebrations.
Chelsea became European champions for the first time after Didier Drogba scored the decisive penalty to beat Bayern Munich after a 1-1 draw in the Allianz Arena.
Blues captain Terry watched the game from the sidelines after being sent off in the semi-final against Barcelona, but helped stand-in skipper Frank Lampard lift the trophy.
With Chelsea having rode their luck at various stages of the tournament, including in the final itself, Terry was delighted to be able to celebrate a momentous night in the club's history.
Incredible
"It was worse watching," Terry told Sky Sports. "It was incredible. The lads were fantastic in the first half, second half.
"When it goes to penalties, it's amazing how the momentum swings. Once they missed that second penalty that was it, it was always going our way.
"When you look at it, we were 3-1 down against Napoli, then in the quarter-finals against Benfica. Everyone had ruled us out of this competition early on, even today they scored in the 83rd minute and Didier comes up with a goal, they miss a penalty, the Barcelona game as well.
"Sometimes things are meant to be and I'm so happy it's meant to be Chelsea this year."
Unfortunate
On being able to take part in the celebrations, Terry added: "It means the world to me. It was a great touch from Frank, and a really nice gesture from UEFA as well.
"It was an unfortunate situation I put myself in and unfortunate for the players on yellow cards. On a great night like this you have to be involved."
Winning the Champions League is the culmination of a long-held ambition of Chelsea owner Roman Abramovich, and Terry also paid tribute to the club's supporters.
The defender continued: "This competition means the world to this football club and when you see the fans you see what it means to them.
"There are so many Chelsea fans back home who have not made the trip and have unfortunately not been able to get a ticket. Everyone here is thinking of them and thanks every Chelsea supporter for their support."