Torres seeks Chelsea talks
Fernando Torres has cast serious doubt over whether his long-term future lies at Chelsea after calling for clear-the-air talks.
Last Updated: 21/05/12 7:53am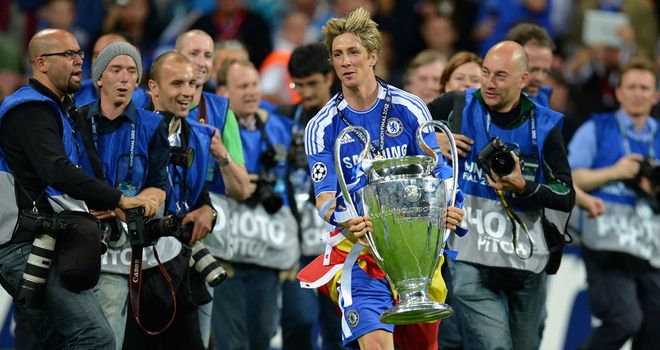 Fernando Torres has cast serious doubt over whether his long-term future lies at Chelsea after calling for clear-the-air talks with the club's hierarchy over what his role will be next season.
In a surprisingly candid interview with Guillem Balague a disgruntled Torres has wasted little time in expressing his disappointment at missing out on a starting place in the Chelsea side that claimed the UEFA Champions League on Saturday evening in Munich, going on to claim for much of his time in West London he has felt 'lost' and may even have 'given up' were it not for the support he has received from those close to him.
The greatest day in Chelsea's history saw them defy the odds once more in the Champions League in beating hosts Bayern Munich on penalties to claim what had become a Holy Grail for Blues owner Roman Abramovich.
Torres felt his improved form over the past month would earn him a starting spot but Roberto Di Matteo elected to go with Didier Drogba as a lone striker, who vindicated his manager's faith by scoring Chelsea's leveller before netting the winning penalty in the shoot-out after the two sides could not be separated at 1-1 after extra-time.
The Chelsea squad are currently enjoying a victory parade throughout the capital but for Torres any delight over claiming Europe's premier trophy has been tempered somewhat by the fact he played only a minimal role off the substitutes' bench.
Torres concedes he feels let down by how things have transpired at Chelsea since joining the European champions in January 2011 for a record £50million fee and it is a situation he is determined to rectify as soon as possible.
"It's contradictory because I feel like I'm at a peak moment in my career, with more desire and hunger than I've felt in a long time but I've had to spend the final on the bench. It was a huge disappointment when I saw the line-up, perhaps the biggest in my life," Torres told Sky Sports' Balague on his website www.guillembalague.com.
"I thought I would play in this game and I couldn't imagine not doing so. But in the end I could participate and offer the team something. I'm really happy.
"This season I have felt things that I never had before. I've felt like they treated me in a way that I didn't expect. Not in the way that was spoken of when they signed me. We've had a lot of talks and we'll talk about my future.
"I want them to tell me what is going to happen in the future. Football has been fair on us, on me.
"Now I do feel like football is worth it but I've been through a difficult time. The worst in my career. I don't want that again. There's been many times when I've felt lost, I wasn't sure what to do. I felt like I didn't know where I belonged.
"I'm eternally grateful to my family who have been by my side and also for the support of the owners who have stuck by me.
Lost
"And especially to the fans, if it hadn't been for them this season I would have given up."
Although Chelsea have yet to indicate whether they will reward Di Matteo for guiding them to FA Cup and Champions League glory with a permanent deal, Torres seems in no mood to wait to learn of what he can expect from the club next term.
"I need the club to tell me what is going to happen and what sort of role I will have within the team, what my duties are, what the club expects of me," he concluded.
"And then judge whether it is worth it."
Prior to the penalty shoot-out Torres was seen to be in heated discussion with Di Matteo, who elected against using the Spaniard as one of his five designated takers.
Gary Cahill has since revealed he was next on the list were the shoot-out to go to sudden death, but it is Balague's understanding Torres was keen to step up and play his part.