Taylor - An unedifying process
PFA chief executive Gordon Taylor has admitted the game's image has been damaged during the John Terry court case.
Last Updated: 15/07/12 10:04am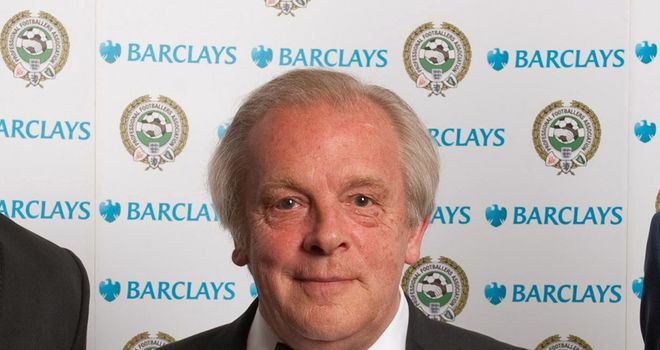 Professional Footballers' Association chief executive Gordon Taylor has admitted the game's image has been damaged during the John Terry court case, as calls grow for the Football Association to conclude its own investigation.
Chelsea captain Terry was cleared of using a racist obscenity about Queens Park Rangers defender Anton Ferdinand on Friday.
Terry had been charged with a racially aggravated public order offence following a Premier League game between the two clubs at Loftus Road on 23rd October last year, but chief magistrate Howard Riddle found the 31-year-old not guilty following a five-day trial at Westminster Magistrates' Court.
The FA has 'noted' the decision and will now study the findings of the court case before deciding whether or not to bring any proceedings.
Players' chief Taylor has suggested the FA is in 'a difficult position' over Terry, and also recognises that football's reputation has been hit by the revelations of the vile insults traded between top professionals.
No grey areas
Taylor wants the FA's Respect campaign to be stepped up for the new season, saying: "It has been an unedifying process and the game has been damaged as a result of the dirty linen being washed in public.
"I now want to see an improvement in the Respect campaign. It is not just the line between what is banter and what is illegal, so much of what we have heard this week needs to be cut out.
"The players are role models and everything now gets picked up in a match on television. These insults and this language leads to things that should not be said."
Liverpool's Luis Suarez was banned by the FA for eight matches for racially abusing Patrice Evra last season, and Taylor says players should be in no doubt about a line that cannot be crossed.
He added: "There are no grey areas any more. Players now know exactly what they can say and what they can't. It's the biggest game in the world and players who earn big money know the cameras and microphones are always on them and should be very mindful of what they are saying and doing.
"The Respect campaign has got to be stepped up."
Zero-tolerance
Leading anti-racism groups have urged the FA to conclude its own investigation, with Kick It Out chairman Lord Herman Ouseley fearing the Terry verdict will discourage black players from making formal complaints about racial abuse in the future.
"Clearly we have a situation where players who are racially abused do not come forward," he told Sky Sports News.
"They do not give evidence against colleagues, they close ranks, there is a club culture and there is a dressing room culture, and it is for those clubs to eradicate that and deal with it.
"The authorities have a profound zero-tolerance situation against racism and other forms of abuse in football and we hope to see that reinforced."
Kick it out ambassador and former Chelsea player Paul Elliott added: "There are no winners in the situation.
"Football is a wonderful way for people to express themselves, break down barriers, and challenge a lot of areas around all forms of discrimination and prejudices, so it is very sad that we are here today witnessing this sad and sorry outcome.
"There is a great responsibility for the game to work collectively to deal with these issues."