Blues and Hoops call on fans
Chelsea and Queens Park Rangers have both issued statements to their fans ahead of this weekend's derby clash.
Last Updated: 14/09/12 7:54am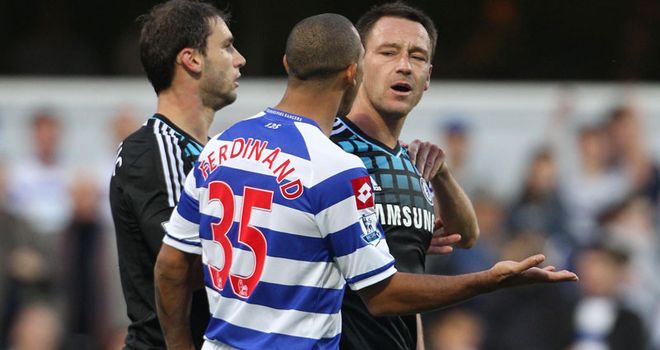 Chelsea and Queens Park Rangers have both issued statements to their fans ahead of this weekend's derby clash.
This weekend's encounter is the first meeting between the clubs since John Terry was found not guilty of using a racial slur against the Hoops' Anton Ferdinand in the corresponding fixture last October.
Terry remains the subject of a Football Association investigation over the charges that he denies.
With both Terry and Ashley Cole - who was a character witness for his international colleague - likely to return for the Blues and Ferdinand recovering well after a shoulder injury, there has been speculation as to whether any of them would shake hands.
That tradition was abandoned in advance of the previous two encounters between the clubs, although, regardless of the tension, the Premier League has no plans to cancel the pre-match handshakes this time.
Ahead of the match both clubs have issued statements directed at their fans.
Blues
Chelsea's statement read: "This Saturday is Chelsea's first local derby of the season as we take on our west London neighbours Queens Park Rangers.
"With a traditional 3pm Saturday kick-off and Chelsea's allocation of tickets in the away end all sold, it promises to be a cracking atmosphere at Loftus Road as the Barclays Premier League resumes after the international break, and both teams continue to integrate summer signings.
"Last January's FA Cup match at QPR and the meeting between the sides in April at Stamford Bridge were good examples of passionate and vocal rivalry with the fans of both clubs recognising that abuse and discrimination have no place in a football stadium, nor anywhere else in society.
"Chelsea Football Club wishes to see the level of respect at those games continued throughout this campaign, as it has been in our opening matches.
"Both Chelsea and QPR will work together with the police to ensure that anyone using discriminatory or inflammatory language on Saturday is identified, and that the strongest possible action is taken against them.
"Fans witnessing any form of abuse are urged to report it to a matchday steward or text confidentially on 07557 435421.
"After the game you can ring Chelsea to report any incident on 0207 386 3355. Please try to note the stand, row and seat number of the person, as well as their appearance, height and build."
QPR
QPR's statement said: "The club is committed to confronting and eliminating discrimination, whether by reason of race, colour, sex, sexual orientation, marital status, age, ethnic and national origin, disability, nationality, religion or belief or gender reassignment.
"The club is proud of the atmosphere we have at Loftus Road and by working together we can stop any discrimination or behaviour that has no place in football.
"Loftus Road is governed by Ground Regulations and we would like to remind all visitors that by entering the ground they are agreeing to abide by these rules.
"Entry to the Ground is expressly subject to acceptance by the visitor of these Ground Regulations and the rules and regulations of FIFA, UEFA, The Football Association, The Premier League and The Football League in respect of the relevant competition. The Ground Regulations incorporate the club's Customer Charter (if any). Entry to the Ground shall constitute acceptance of the Ground Regulations.
"Racial, homophobic or discriminatory abuse, chanting or harassment is strictly forbidden and will result in arrest and / or ejection from the Ground, and in addition the club will impose a ban for one or more matches.
"QPR will not tolerate sexual or racially based harassment, or other discriminatory behaviour, whether physical or verbal and where required we will work in full co-operation with the Metropolitan Police to provide CCTV footage and staff statements to ensure prosecution.
"Any actions that lead to prosecution or removal from the ground will result in a ban.
"No supporter needs to tolerate discrimination of any kind at Loftus Road, on the pitch or in the stands. If you experience any form of discrimination, help us to eliminate it from football. Please report this to the club by texting the Matchday Control Room on 07557 435421. We will treat your correspondence in strictest confidence."