Terry and Cole expected to feature for Chelsea and will shake hands at QPR
John Terry and Ashley Cole are set to be fit for Chelsea's game at QPR and will take part in the pre-match handshake.
Last Updated: 14/09/12 7:19pm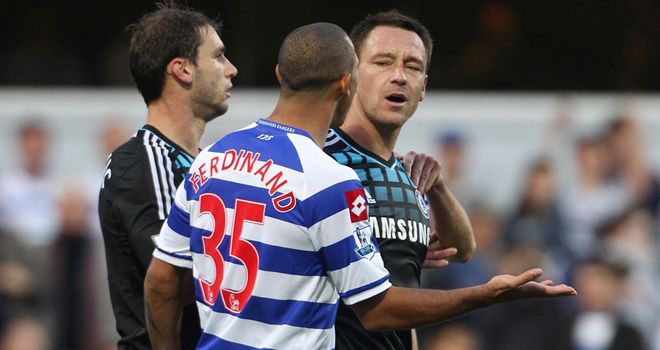 Terry and Cole have been in a race against time to recover from ankle injuries for the west London derby at Loftus Road.
The pair missed England's midweek draw with Ukraine, but they have trained without incident for the past three days and are set for a reunion with Anton Ferdinand, who Terry was cleared in court of racially abusing back in July.
"They've recovered, had a couple of days training and we expect them to be available for tomorrow," Di Matteo said.
"We're going to respect the rules and the protocol that is in place from the Premier League and set a positive standard to the millions of people watching across the world."
He added of the handshake: "We'll go ahead with it, yes."
The last two meetings between the clubs saw the pre-match handshake cancelled, primarily to avoiding prejudicing Terry's trial but also amid fears of a mass boycott by QPR's players.
QPR boss Mark Hughes has called for the ritual to be scrapped completely but Di Matteo said: "It's in place, so we respect it. The game would still go on if it wasn't in place.
"It just gives a good outlook to the people that there is one beforehand, and everyone will focus on their game."
Enmity
Saturday's handshake also has the potential to fan the flames of supporter enmity, which has grown in the wake of a saga dating back almost a year.
"There comes a point where we hopefully put the history behind us," said the manager.
"A lot has been written and said about it, and let's change the focus on to the football. The fans want to watch a good football match.
"We would like both sets of supporters, and especially our fans, to support their team.
"Football is here to unite people, rather than divide people. That's always been the case. That's what we set out our fans to do."
But he added: "Every time we go to Loftus Road it's always a feisty day. A big derby for us, a small ground with very passionate supporters from both sides.
"The rivalry is well known, so it's going to be a heated atmosphere."