Ryan Nelsen says he feels 'really bad' for QPR team-mate Anton Ferdinand
Ryan Nelsen says he understands why Anton Ferdinand did not want to shake the hand of John Terry and Ashley Cole.
Last Updated: 17/09/12 8:29am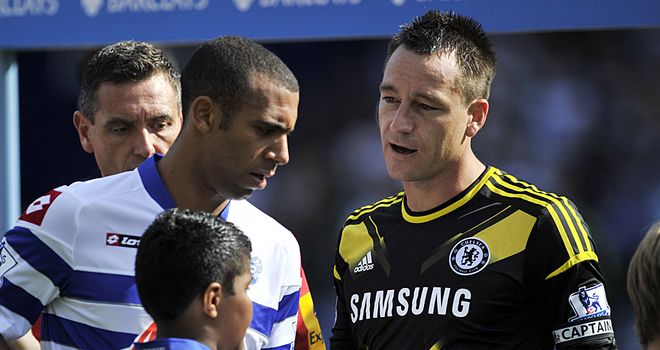 The build-up to Saturday's West London derby was dominated by the pre-match handshake and, as expected, Ferdinand rejected Terry and Cole during the ritual.
It was their first encounter since Chelsea captain Terry was cleared in court of racially abusing Ferdinand in the corresponding fixture last season, with Cole appearing as a witness for his team-mate.
Nelsen feels sympathy for Ferdinand and also revealed his fellow defender did not ask his team-mates to snub Terry or Cole.
"Anton didn't deserve this, all the stuff that's gone on. He and his family have had to go through so much. I feel really bad for him," Nelsen said.
"If Anton had told us not to do it (the handshake)....but that's the measure of the man.
"He just said: 'This is my personal thing. Whatever you guys do, do it'.
"In the end the Premier League forced everyone to do it, but I don't think anybody in Anton's situation would have done it."
Meanwhile, Nelsen rejected Chelsea boss Roberto Di Matteo's claims that he was lucky to have escaped a "100% stonewall penalty" after wrestling Terry to the ground.
"If you ask John, he just fell down. I was holding him, of course, but he just fell down. He does it to everybody in their box," Nelsen said.
"I said to him 'that was a bit embarrassing John' and he laughed when he ran off. He didn't say anything to me, I think he was too embarrassed.
"It's one of those ones that, when you're there, the ref was smart enough to see it.
"He was nowhere near the ball, was never going to win it, so he just fell down. He was just trying to get a penalty and trying to get something for his team to win.
"I'm really surprised Roberto said something like that because, in his day, he would probably have done the same."