Chelsea midfielder John Obi Mikel believes they can retain the Champions League
John Obi Mikel believes Chelsea can retain the Champions League after admitting they had some good fortune.
Last Updated: 18/09/12 8:19pm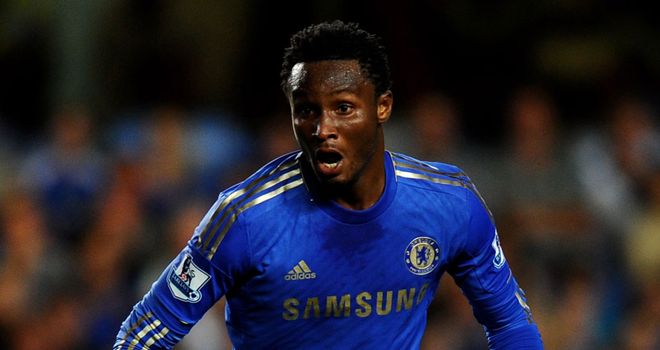 The Blues kick off the defence of their European crown on Wednesday night as they take on Juventus at Stamford Bridge, live on Sky Sports 2HD.
Some pundits have suggested the manner in which they finally ended their agonising wait for club football's biggest prize was down to a significant slice of good fortune.
But Mikel, who was crucial to their success after playing every minute from the quarter-finals onwards, said on Tuesday afternoon: "When people say that, sometimes it's actually not true.
"I think we worked very hard for what we achieved last season.
"But, at the same time, you need luck in everything you do. So, yeah, we were kind of lucky but, this season, it's a different story altogether.
"We brought in new players that are going to help us in this campaign. So, hopefully this season, we can play good football and win games.
"And hopefully, we can go very, very far in this tournament - hopefully get to the final again."
Hungry
Owner Roman Abramovich, who splashed out £80million over the summer, will expect to see signs of the "good football" promised by Mikel in Wednesday's opening group game against Juve, who are unbeaten in their last 42 Serie A matches.
Mikel added: "We're still hungry, there are still players in that dressing room that still want to retain this trophy.
"We want to build on it, we don't want to stop, and hopefully we can build on it this season, and tomorrow is the start of it.
"So we have to make sure that we go out there tomorrow and prove ourselves and make sure we want to go far in this tournament."
He added: "You're going to look at people and hear that Real Madrid and Barcelona are going to be favourites.
"But I think that's what happened last season when we played Barcelona. I think everyone wrote us off even before the game, but we showed how much the Champions League meant to us and how much we wanted to win it.
"It does add to pressure on us but, at the same time, we're kind of more relaxed, because we've done it, this club has won it now.
"We're all big players and this is what we live with. So we have to go out there tomorrow and make sure that we play well. Obviously, it's not going to be easy because Juve haven't lost since last season."