Roberto Di Matteo is aiming to 'do the impossible' with Chelsea and secure back-to-back Euro titles
Roberto Di Matteo says Chelsea will attempt 'the impossible' by pushing for a second successive Champions League trophy.
Last Updated: 19/09/12 8:05am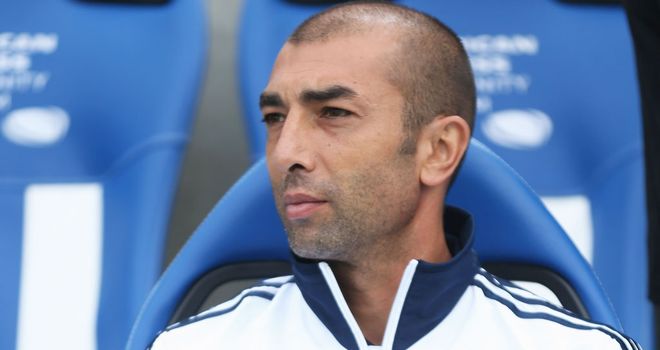 The Blues will bid to become the first club in the competition's history to win back-to-back titles this season after ending their long wait for European glory in May.
Di Matteo knows his side face a tough task, starting with a visit of Serie A giants Juventus on Wednesday night.
He said: "The Champions League has proved impossible for anybody to win twice in a row but we will try to do the impossible.
"The competition is fierce and every season strong new teams come into the tournament, like Paris St Germain and Juventus.
"We have three national champions in our group and the competition this year is probably even stronger than last season.
"Juventus are a very strong team. They had a fantastic unbeaten run throughout Serie A last season and they have quality, experienced and dynamic players in their team.
"They are probably one of the most difficult teams you could be drawn against at this stage of the Champions League.
Hope
"For now, the objective is to progress from the group stages. But the hope is to win the trophy again."
Owner Roman Abramovich has spared no expense this summer as the club target more success, splashing out £80million on the likes of Eden Hazard and Oscar.
The Russian's spending spree seemed an acknowledgment Chelsea's European triumph owed as much to outrageous fortune as anything but Di Matteo bristled at such a suggestion.
"It can't just be that," he said. "That's a minor part of it."
"You might need, and you will need, a portion of luck during a competition like this. But every team has it to be able to achieve the final target to win it."
Juventus have spent the last two seasons outside Europe's premier club competition but return on the back of an incredible 42-game unbeaten run in Serie A.
That sequence has coincided with the arrival of veteran playmaker Andrea Pirlo, who also inspired Italy to this summer's European Championship final.
Di Matteo insists Juve are not a "one-man team", but added: "Obviously, he's a very important player for them and dictates a little bit their game, so we will certainly have to make sure we control him, that's for sure."