Cole - I'm fitter than ever
Ashley Cole has quashed any doubts about his fitness after becoming Chelsea's match-winner.
Last Updated: 23/09/12 1:45pm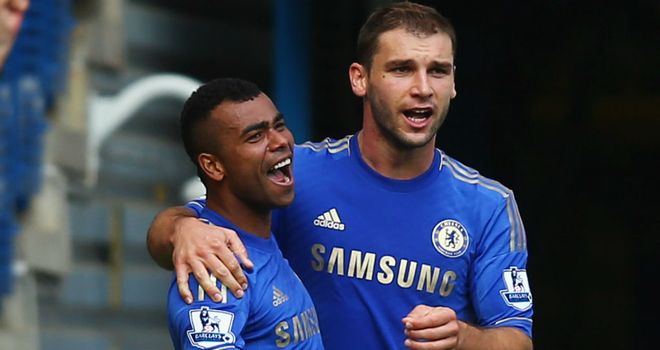 Ashley Cole has quashed any doubts about his fitness after becoming Chelsea's match-winner.
Cole's first goal in 28 months against Stoke City on Saturday not only spared the European champions a fourth successive game without a win but showed the watching Roman Abramovich he still has plenty more years at the top as the left-back continues to negotiate a new contract.
Chelsea owner Abramovich has been reluctant to sanction long-term deals for thirtysomethings but could well be set to make an exception for 31-year-old Cole, who he may otherwise risk losing for nothing next summer.
It is said the England international is carrying a persistent ankle problem that can limit his ability to train and he joked after the 1-0 win over Stoke that "my legs can't keep getting me up and down the pitch".
But he added on Chelsea TV: "I feel as fit as I've ever been."
Clever
Blues boss Roberto Di Matteo said on Saturday he had recommended the Chelsea board keep Cole at the club "as long as they can" after watching the left-back succeed where £130million of attacking talent had failed and put the ball in the back of the net.
Cole admitted he did not know what he was doing in the centre-forward position after expertly chipping home Juan Mata's delightful backheel.
Confessing it was "nice" to end a drought going back almost two-and-a-half years, he added: "I didn't have too much time to think about it. That's why I probably did that.
"I just thought I would take a gamble and get in the box and, luckily, it fell for me."
Even Mata was shocked to see it was Cole who was on the end of his clever flick, as the Spaniard said: "I didn't know it was Ashley Cole. I guessed that someone was there.
Magic
"Luckily, it was Ashley and he chipped the ball and he showed that he's one of the best full-backs in the world."
That is beyond dispute, although goalscoring has never been a big part of Cole's game and the left-back warned that was unlikely to change in Chelsea's new attacking system.
"I tend to stay back a little bit more," he said.
"With the players we've got, we have to change the way we play and we have to get the ball down as much as we can and give it to people like Oscar and Eden (Hazard) and Juan to try to make some magic."
He added: "When the fans watch these players, they're so exciting.
"When Oscar's getting the ball and running at defenders, when Hazard's getting the ball and running at defenders, it's exciting, and the future's looking good for Chelsea.
"This season, we've got to keep going and, hopefully, we don't get too many injuries and we keep going and keep winning games."