Terry set for FA hearing
John Terry will attempt to clear his name once and for all this week as he faces an FA panel over allegations of racism.
Last Updated: 24/09/12 9:57am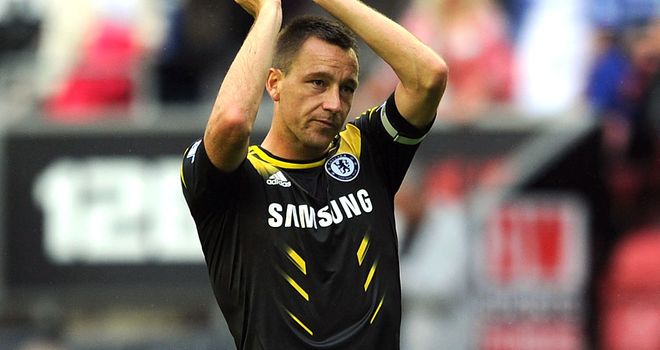 John Terry will attempt to clear his name once and for all this week as an independent Football Association panel decides whether they believe he directed a racist slur towards Anton Ferdinand.
It is understood that Monday will see the start of Chelsea captain Terry's personal hearing to answer an FA charge he used "abusive and/or insulting words" that "included a reference to the ethnic origin and/or colour and/or race of Anton Ferdinand" in last October's Premier League clash at Queens Park Rangers.
Terry has already categorically denied the charge and is set to do so again in person on Monday - at what is said to be a secret London location - more than two months after being found not guilty at Westminster Magistrates Court.
The two players could come face to face again as the FA panel considers the case, barely a week after Ferdinand refused to shake Terry's hand before the latest west London derby at Loftus Road.
If found guilty over the coming days, Terry is likely to be banned, although reports suggest it may only be for four matches, possibly due to the complexity of a saga that had dragged on for almost a year.
The implications for Terry beyond any formal punishment could be more severe and there is likely to be pressure on both the FA and Chelsea to take further action against the 31-year-old, most notably by calling time on his England career.
Delegation
The written judgment of the panel in the case of a guilty verdict may have a big say in determining the extent of the damage.
Terry's legal team will reportedly attempt to ensure they do not even get as far as considering a verdict.
The delegation, led by George Carter-Stephenson QC - who successfully defended Terry in court - are said to be ready to argue that his acquittal in a criminal trial means the FA case cannot proceed.
That would involved citing FA rule 6.8, which governs disciplinary hearings and states that the results of relevant civil or criminal proceedings are "presumed to be correct and the facts presumed to be true" by FA commissions.
The FA will doubtless insist their charge against Terry is distinct from the racially-aggravated public order offence from which he was cleared in July.