Chelsea's Petr Cech is hoping that rest will help with his elbow problem
Chelsea number one Petr Cech is hoping that not playing as much international football will help with his elbow problem.
Last Updated: 01/10/12 7:44am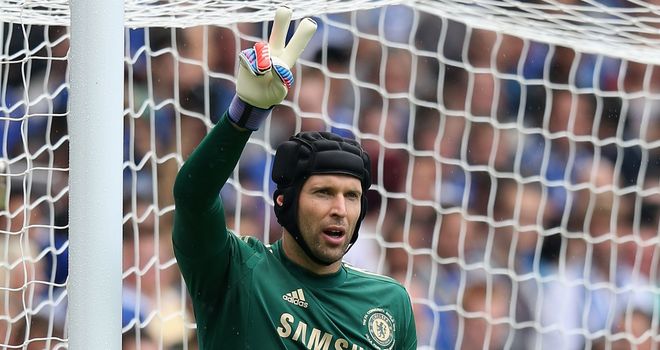 The 30-year-old has an agreement with the Czech Republic's management that he does not need to play in their friendly games.
This is due to a chronic elbow issue he has, which he has previously stated would need surgery next summer, although Roberto di Matteo insists this is not certain.
"I hope it will alleviate that anyway because I've been playing with that for years and nearly always managed to stay on top of it," Cech said after confirming he would not play in friendlies for his country.
"So, I hope it's going to be the case again for the coming years.
"Not to travel with the national team and not to play more games, it can be helpful and that's why, when I spoke with the national team, I got that option."
Difficult
Cech admitted he was delighted to have helped Chelsea to victory at Arsenal on Saturday in a game billed as the first real test of their title credentials and of their new, bolder approach.
"We had difficult games so far in the season and we managed to go through really well," he said.
"We want to go step by step, game by game, into the right direction, winning games.
"It was a game where everybody said, 'Okay, this is a real test of how they are doing', and we did well - so it's pleasing."
Captain John Terry also came through his own trial by fire, less than 48 hours after being found guilty of using racist language towards Anton Ferdinand.
Cech said: "All his career, he's shown that to play football is what matters to him. So, he's playing, he's focusing on his game.
"All the other things are unfortunate, but he's on the pitch, he's doing well, and that's why we need him like that."