Chelsea star Oscar is happy with how he is settling at the club
Chelsea star Oscar is delighted with how he is settling into life in London.
By Paulo Freitas
Last Updated: 01/10/12 11:59am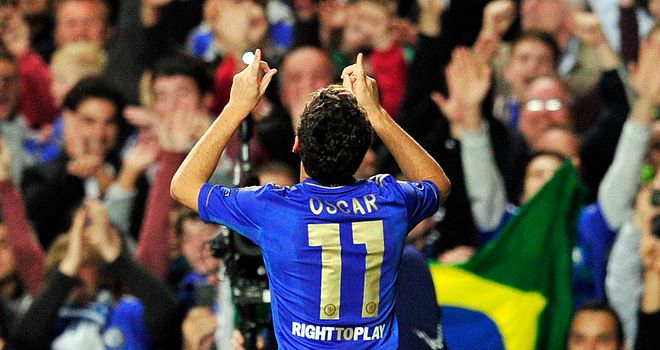 The Brazil international is becoming a fixture in Roberto Di Matteo's side having started Chelsea's last two league games.
Oscar made his full debut against Juventus last month, when he fired home twice against the Italian champions.
And the 21-year-old is feeling happy about life at Chelsea, telling Lancenet: "It's been pretty cool, I'm still adapting, especially regarding the language, since I don't speak English very well. I am taking classes to improve.
"It's a big European club, they have received me very well. It's a club that you usually don't want to leave, especially because of their importance in Europe. I hope to stay here for a long time.
"London is a very nice city and I hope to make the most of this experience in my career. All the Brazilians here have helped me a lot at the start.
"My family came with me and are also helping, as well as my agent and his colleagues.
"Right now, it is good to have some people helping, but I think I will soon be able to live here in England without any problem."
Happy
Oscar admits his two goals against Juventus in the Champions League have taken him to a new level.
"They [English press] will certainly follow me more closely now. When I played against Juventus, whenever I touched the ball, people looked at me in a different way. I hope I keep playing at a high level here," he said.
Oscar is also full of praise for his new manager, saying: "Di Matteo is a great person.
"Since I arrived here he's been trying to help me as much as possible. He watched my national team games and knew my positioning, and tries to adjust my role in the team."
Oscar insists he would love to become a Chelsea legend like John Terry and Frank Lampard.
"I hope to have the same path as Lampard and Terry here at Chelsea. They have a great career at the club and are very important for the squad. They are big idols," he said.
Oscar feels his move to Europe will help cement his place in the Brazil national side.
"As like the Brazilian League, the English League is also very balanced. But I believe it's the strongest league in the world, especially because the best players play in England. Besides, the league is very well organised.
"This move to Europe will be key for me to mature. The national team have many young players who will need to know how to handle the pressure of playing a World Cup at home.
"Despite that, I'm confident we will do well, as our players are very good. We will do everything we can to win the World Cup."
Oscar will compete in the World Club Cup with Chelsea in early December, a competition held in very high regard in his homeland.
"I'm very eager to play [in the World Club Cup], Chelsea will start worrying about this when they get there.
"There are many Brazilians here, and I think it will be cool. I hope I have a great tournament. I've been there before and lost (at Internacional, in 2010). We'll do everything we can to beat Corinthians."