Chelsea manager Roberto Di Matteo warns Eden Hazard he must try to stay on his feet
Roberto Di Matteo hopes referees are not judging Chelsea's Eden Hazard as a player that goes down easily.
Last Updated: 08/10/12 12:05pm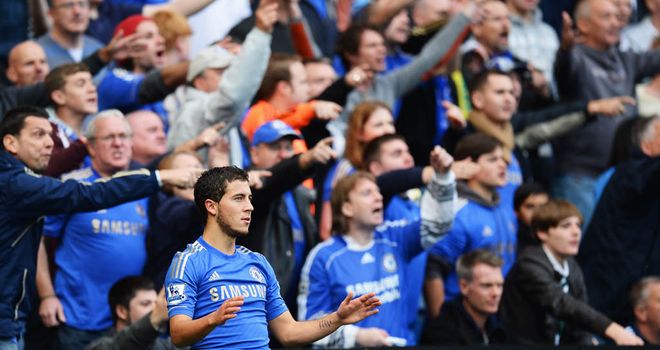 Referee Anthony Taylor was unmoved by two penalty appeals for fouls on Hazard during Saturday's 4-1 victory over Norwich at Stamford Bridge.
The Belgian won three spot-kicks in his first month at the Premier League club but has seen nothing given since then.
With backlash over simulation a recurring theme for several clubs so far this season, Di Matteo hopes Hazard is not being tarnished with a reputation as a diver.
He told The Times: "The first three penalties he got in the first few games were clear-cut penalties.
"But there were a few others where he didn't get them so I wouldn't want the officials to have a prejudice against him.
"If it's a foul, it's a foul. Sometimes they get them right, sometimes wrong.
"I wouldn't accuse my players of going down too easily. It's a different culture. In England you need to try everything to stay on your feet."