Jose Mourinho says an unwritten 'pact' will stop Real Madrid bidding for Atletico Madrid's Radamel Falcao
Jose Mourinho has seemingly ruled Real Madrid out of the hunt for striking sensation Radamel Falcao.
Last Updated: 13/10/12 2:01pm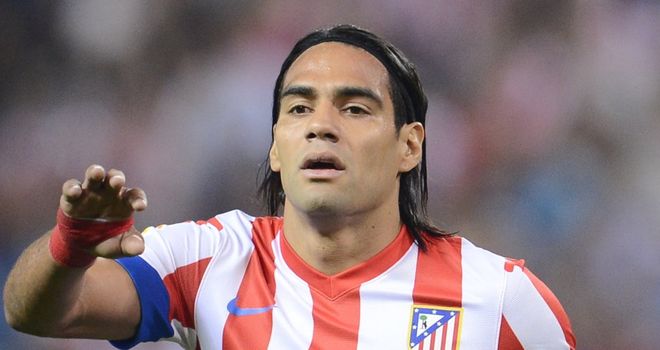 Real are one of the clubs who have been very strongly linked with the Colombian striker - currently regarded as one of the top players in world football.
But Mourinho says that because Falcao is with Atletico Madrid, that means Real are unlikely to make a bid because of an unwritten 'pact' between the two clubs.
"Falcao is a key player of our rivals, as was Sergio Aguero, and there is a kind of non-aggression pact between Atletico and Madrid, therefore I think this is a kind of forbidden subject," Mourinho told Abola.
"He is a fantastic player and I have a feeling he is a person of the highest level, and I am very happy he is having success at Atletico."
The news is likely to be a boost to Mourinho's former club Chelsea, who have been strongly linked with a January move for Falcao.
One player who will not be moving in Janaury is Fabio Coentrao - he blasted: "I miss the times that lying and inventing in the newspapers was almost a crime. Now this does not happen, we are in a situation where it is very easy to lie and invent. It says what you want."
But Mourinho did admit that his recent dropping of Coentrao has become a bit of an issue.
"We cannot escape that the reality of the Fabio Coentrao situation is not easy, but Fabio should be able to overcome a situation that I recognise is not easy for him - but there is no possibility he could leave in January - not long ago he cost €30million."
Carvalho
He also spoke about Ricardo Carvalho's situation at the club and he insists he is happy that he wants to stay - after a move to Queens Park Rangers in August failed to materialise.
"I thought he wanted out of Madrid, he is a tremendous player - especially for me, as I have had him at three clubs," he said.
"With his injury last season and with Pepe and Ramos forming a partnership which can be the best in the world, he got a little delayed.
"But he decided to stay in Madrid, for me it is not a problem, he could be a solution but he knows his chances could be restricted."
He also dispelled rumours that he looked at signing another of his former Chelsea players Jose Bosingwa in the summer.
"No, I did not think about it. You have to be good to bring the Portuguese and Portuguese to Madrid, would be mean to them."