Fernando Torres 'did not care' whether Chelsea won or lost during difficult spell
Fernando Torres admits there was a difficult spell at Chelsea when he did not care whether the team won or lost.
Last Updated: 16/10/12 8:33pm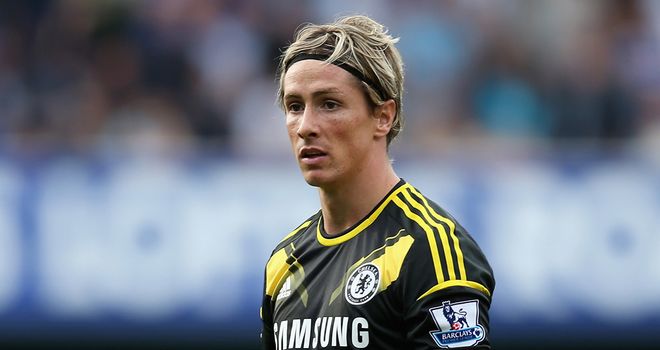 The Spain striker struggled to make an impact at Chelsea after joining from Liverpool in January 2011 and he grew disenchanted with life at Stamford Bridge as he slipped down the pecking order.
But Torres changed his attitude and learned to adapt his playing style after Roberto Di Matteo took charge of the side in March.
"Halfway through last season, I distanced myself from the values I had grown up with," said Torres.
"I had team-mates who didn't care if the team won or lost because they were not playing. I never wanted to be like that - [But] one day I discovered that I was like them, that it didn't matter if we won or lost if I was not playing.
"I wasn't part of the group. I discovered that I was not happy because I had stopped being what I had always wanted to be. In the dressing room, you can never lose that group concept.
"But I learned to look at myself and to realise that the only person that can change is you. The only person who can say: 'You're making mistakes, you've got to do something' is you."
Reflecting on Di Matteo's arrival, he said. "When we changed coach [and Roberto Di Matteo took over] it was a bit more similar [to Liverpool manager Rafael Benitez's style].
"That had a good side to it, which was that I learned: I became a better player.
"I can now do things that I was not able to before. You can be the player that your coach wants, but you're not the player that people expect you to be.
"I spoke to Steve Holland, the [Chelsea] assistant, a lot and we worked hard on it."
Torres also revealed it was a difficult decision to leave Anfield where he was a big success following his switch from Atletico Madrid in July 2007.
"I owe Liverpool a huge amount. To the people, to the men in charge, to Benitez and his staff, to the city. Liverpool is a fundamental part of my life. They don't remember me that way, but time will change that," he said.
"I could not have chosen a better place to go when I left Atletico. My son is a Liverpool fan and he was already kicking a ball before he was one. He was born in the football city; he had no choice."