Chelsea captain John Terry issues apology and decides not to appeal four-game ban
Chelsea captain John Terry has issued an apology and decided not to appeal his ban for racially abusing Anton Ferdinand.
Last Updated: 18/10/12 2:49pm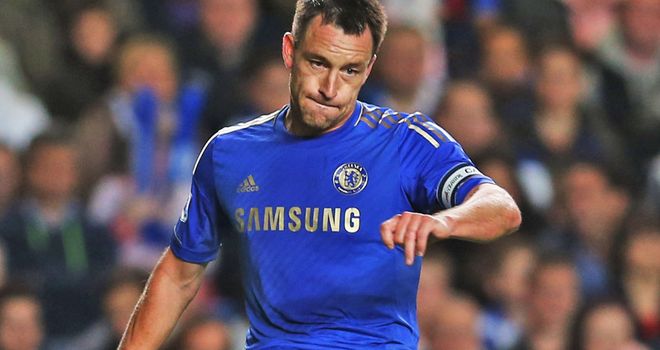 Terry had until 6pm on Thursday to contest the punishment handed out by an independent FA regulatory commission.
But in a statement issued by his representatives Elite Management, Terry revealed he is unhappy with the FA judgment but has decided to serve his suspension.
"After careful consideration, I have decided not to appeal against the FA judgment," he said.
"I want to take this opportunity to apologise to everyone for the language I used in the game against Queens Park Rangers last October.
"Although I'm disappointed with the FA judgment, I accept that the language I used, regardless of the context, is not acceptable on the football field or indeed in any walk of life.
"As I stated in the criminal case, with the benefit of hindsight my language was clearly not an appropriate reaction to the situation for someone in my position.
"My response was below the level expected by Chelsea Football Club, and by me, and it will not happen again.
"Looking forward, I will continue to do my part in assisting the club to remove all types of discriminatory behaviour from football.
"I am extremely grateful for the consistent support of Chelsea FC, the fans and my family."
Chelsea have also taken disciplinary action against Terry but say the internal sanctions 'will remain confidential'.
Terry will miss Saturday's Premier League game with Tottenham as well as the clash with Manchester United on 28th October and the Capital One Cup tie with Sir Alex Ferguson's side three days later.
Chelsea's trip to Swansea on 3rd November will be the final game he misses.
Found guilty
Terry was found guilty by the independent FA commission of using highly offensive racist language towards Ferdinand during the Premier League match between Chelsea and QPR on 23rd October last year.
He has always maintained that he was merely repeating an accusation levelled at him by Ferdinand, but the commission found that his words were used as an insult.
The commission described Terry's version of events at Loftus Road as "improbable, implausible and contrived" in their written reasons for issuing the ban.
The three-man panel also questioned why Terry's team-mate Ashley Cole had changed his statement to give more support to Terry's story, sparking a furious response from the Chelsea and England defender who described the FA as a "bunch of t***s" in a tweet sent on 5th October 5.
Cole has since issued a full apology for that and has admitted a misconduct charge.
The commission said in its written reasons: "The commission is quite satisfied, on the balance of probabilities, that there is no credible basis for Mr Terry's defence that his use of the words... directed at Mr Ferdinand by way of forceful rejection and/or inquiry.
"Instead, we are quite satisfied, and find on the balance of probabilities, that the offending words were said by way of insult.
"Accordingly, the commission finds that there is 'clear and convincing' evidence."
The commission said that character references from a number of people, including black players, made it clear that Terry was not racially prejudiced.
"It is accepted by everyone involved in the criminal and disciplinary proceedings that Mr Terry is not a racist," added the commission.
Terry had been cleared in Westminster Magistrates Court in July of a racially-aggravated public order offence, partly helped by the testimony of Cole.
However, the commission found that there were discrepancies in Cole's initial statement to FA interviewers of what he heard Ferdinand say to Terry compared to later statements.
Cole did not mention the word 'black' in the initial interview with the FA on 28th October. On 3rd November 3, Chelsea club secretary David Barnard asked the FA for the specific word 'black' to be inserted into Cole's witness statement, suggesting that Cole may have heard Ferdinand use the term.
The commission saw an email exchange between the FA and Barnard and said that should be regarded as "cogent new evidence".