Chelsea's Frank Lampard to undergo scan on a recurring injury
Frank Lampard is expected to learn on Thursday whether injury will rule him out of Chelsea's clash with Man Utd
Last Updated: 24/10/12 1:38pm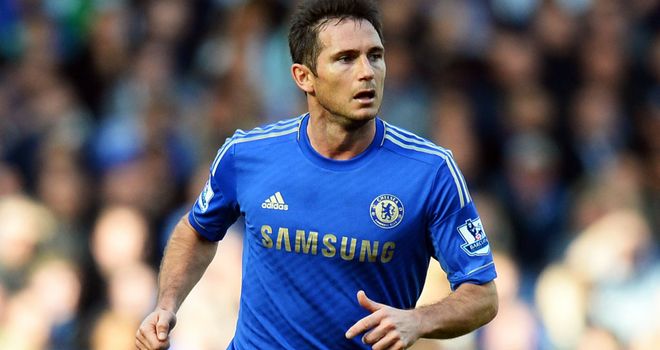 The veteran midfielder lasted just 15 minutes of the Blues' 2-1 Champions League Group E defeat against Shakhtar Donetsk on Tuesday.
Lampard suffered a recurrence of the calf injury that ruled him out of England's World Cup qualifiers against San Marino and Poland and is set to undergo a scan to determine the extent of the problem.
The 34-year-old's withdrawal saw manager Roberto Di Matteo's game-plan go up in smoke, leaving Chelsea in danger of becoming the first holders to crash out of the competition before the knockout phase.
With John Terry resuming his domestic football suspension, vice-captain Lampard's absence against United on Sunday would leave Di Matteo with another headache in a game the Blues will be desperate to win to open up a seven-point gap on their opponents.
Confirming Lampard would undergo a scan on Wednesday Di Matteo said: "It's basically a recurrence of an old injury.
"He was training with us fine and there were no alarm bells before the game. He was in good condition to play."
Disarray
Di Matteo admitted the loss of Lampard in Donetsk threw his masterplan into disarray as Chelsea lost for the first time since their UEFA Super Cup thrashing by Atletico Madrid.
The result also came at a time of the season when the Blues have traditionally suffered a slump, but Di Matteo added: "It's a team that has always shown the character after a defeat and I don't think the previous years should affect the way we are playing this season or where we are this year.
"We are doing everything we can to prevent that as well. The team is in good physical condition and also we have a good squad, so we'll try to utilise everybody that we can."