Chelsea manager Roberto Di Matteo backs Fernando Torres
Chelsea manager Roberto Di Matteo has once again leapt to the defence of misfiring striker Fernando Torres.
Last Updated: 26/10/12 11:32pm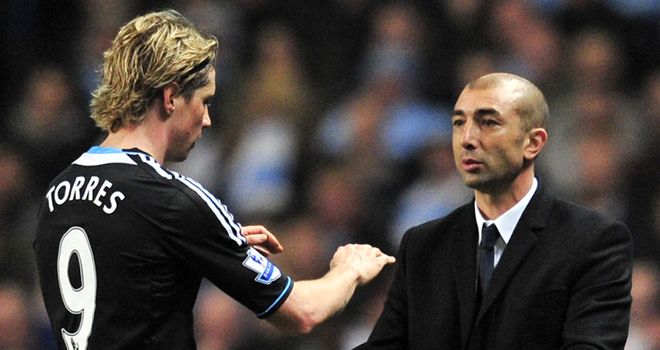 The £50m signing has netted six goals so far this season, but he has also missed numerous gilt-edged chances and struggled to make an impact in Tuesday's Champions League game against Shakhtar Donetsk.
However Di Matteo said: "I have no concerns about Fernando. He always works hard for the team and, whether he scores or not, he's always contributing.
"We can't just rely on one player. We want to share the responsibility.
"Sometimes, he gets more chances, sometimes less. But he's been scoring goals, he's been making goals, and we can't expect him to be scoring every game."
Pointing out Torres had score almost one goal every two games, he added: "He just had a difficult season but I think this season is completely different.
"He started very well, he's playing well, he's looking good, so I would rather focus the energy on now and the future.
"I think he's shown all the signs from this season. He's scored in the Community Shield, he's scored four in the league, he's scored one in the cup.
"So he's been scoring goals. But he's been making goals as well."