Paying the price
Defensive woes saw Chelsea go two goals down early on in their 3-2 defeat to Manchester United at Stamford Bridge on Sunday. Rachel Griffiths examines just how costly those problems at the back proved and whether the Premier League leaders are missing John Terry.
By Rachel Griffiths - Follow me on Twitter @SkySportsRachG
Last Updated: 30/10/12 12:03pm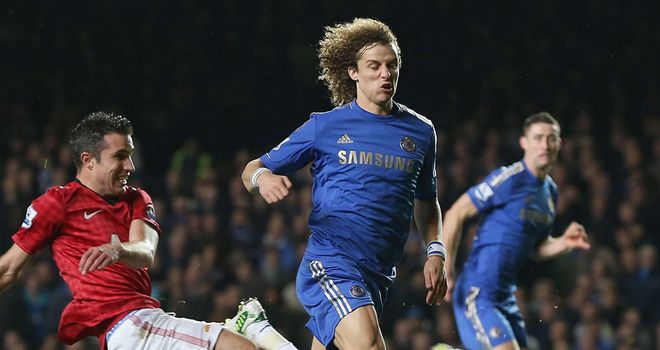 "In a way, what happened was a good experience for us because we have to defend better," surmised goalkeeper Petr Cech after Chelsea saw their backline repeatedly shredded in last week's 2-1 defeat at Shakhtar Donetsk.
"We played well when we had the ball but not when we didn't have it. If you do this against Manchester United, you are in big danger because they are the same type of team.
"Hopefully it was a good lesson and we learn for the weekend."
After just 12 minutes of Chelsea's visit of the Red Devils at Stamford Bridge on Sunday afternoon, it seemed clear the Blues still have some lessons to learn.
With captain John Terry looking on from the stands as he continues his suspension, manager Roberto Di Matteo was forced to reshuffle his backline from midweek, bringing in Gary Cahill alongside David Luiz at the heart of defence.
From the opening whistle, things looked suspect at the back as United's lively attacking force sprung out of the traps, with Ashley Cole the most obvious struggler in the opening half. By restoring wingers to his side in Antonio Valencia and Ashley Young, Sir Alex Ferguson effectively stretched open the home side, with Cole lacking support on the left wing and forced to deal with Valencia and full-back Rafael.
One moment where this deficiency was especially evident came in the build-up to United's second goal as Cole was caught out of position trying to subdue Rafael, who poked a pass through to Valencia in bags of space on the right.
But Cole wasn't the only one having problems as Luiz and Cahill struggled to deal with the attacking threat of a lively Robin van Persie. The former had a particularly tough afternoon as he and Cahill endeavoured to hold things steady at centre-back in the absence of their suspended skipper.
It can be argued Luiz was unlucky to concede a fourth-minute own-goal as the ball pinged off the post from Van Persie's shot and went in off his back, but his role in United's second goal was less excusable as he failed to deal with Valencia's cross.
The Brazilian, who has developed a reputation for being error-prone during his time at the Bridge, made some poor decisions as United took control and his display did nothing to dispel the suggestion he is more comfortable with Terry as his centre-half partner.
Missed
It appeared Terry was missed in general, with his leadership qualities and ability to organise things at the back glaringly absent. Yes, the skipper was part of the backline that struggled to deal with Shakhtar in midweek, but that was also a backline left exposed in the opening stages when they conceded an early goal as Ramires, who has excelled in a holding midfield role this season, was pushed wide and Frank Lampard proved less effective as a partner to John Obi Mikel.
Di Matteo restored Ramires to his more familiar position for the visit of United and the industrious midfielder played a key role in the Blues' comeback as he helped push the visiting attack further up the pitch, then added the equalising goal in the second half.
Unfortunately for Chelsea, a misdemeanour from the other member of Di Matteo's shaky backline, Branislav Ivanovic, left the Blues with an uphill struggle after he was shown a straight red card for his clip on Ashley Young as he advanced on goal.
Ferguson highlighted that sending off as the turning point for United's win in his post-match interview but after clawing their way back, it's fair to say Chelsea were still in it up until referee Mark Clattenburg's controversial sending off of Fernando Torres after he earned a second yellow card for an adjudged dive.
The Blues had no choice but to sit tight and try and preserve the 2-2 scoreline after going down to nine men, and it was at the expense of their creative flair as Oscar and the continually impressive Juan Mata gave way to Cesar Azpilicueta and Ryan Bertrand as Di Matteo attempted to shore-up his defence.
Fittingly after an unconvincing display, it was Luiz who found himself bamboozled once again as the ball went through his legs in the build-up to Javier Hernandez's winner - even if it was offside.
Quality
There is no questioning the quality in Chelsea's attack this season, with midfield maestros Hazard, Mata and Oscar having all impressed, but such marauding attacking play needs a watertight foundation to be based on and that was distinctly lacking in the first half against United. The Blues have boasted the characteristics of title contenders already this term but, as was evident on Sunday, problems at the back can prove costly, even without the added obstacle of the controversial decisions which halted a potential Chelsea comeback.
However, it isn't as if the leaders' nearest rivals United, who cut the gap to just a point at the weekend, do not have problems of their own at the back. While Ferguson will be relieved they did not continue the worrying trend of conceding first at Stamford Bridge, having done so in eight of their 12 games previously, the manager is unlikely to be happy with them throwing away a two-goal lead in arguably the most important match of the season so far.
Another cause for concern will be the way, despite Chelsea being reduced to nine men, Hazard continued to cause problems for the Red Devils backline, working tirelessly until he was hauled off for Daniel Sturridge late on as Di Matteo tried an unsuccessful last-ditch bid for a goal.
The absence of Nemanja Vidic, still sidelined with injury, has no doubt played a part in United's shortcomings at the back this season, with their defence sometimes looking sluggish as the ageing Rio Ferdinand struggles to forge a consistent partnership with Jonny Evans, and Patrice Evra dips in and out of form on the left.
The title race is on in earnest after Sunday's encounter, with Chelsea's lead over the two Manchester clubs sliced thin after failing to capitalise on an opportunity to open a seven-point lead. With rivals Chelsea and United looking dangerous going forward but both showing weaknesses at the back, there's already the sense the race for the trophy could be an open affair.