FA launches investigation into Chelsea allegations against referee Mark Clattenburg
FA launches investigation into allegations Mark Clattenburg used "inappropriate language" towards Chelsea players.
Last Updated: 29/10/12 4:41pm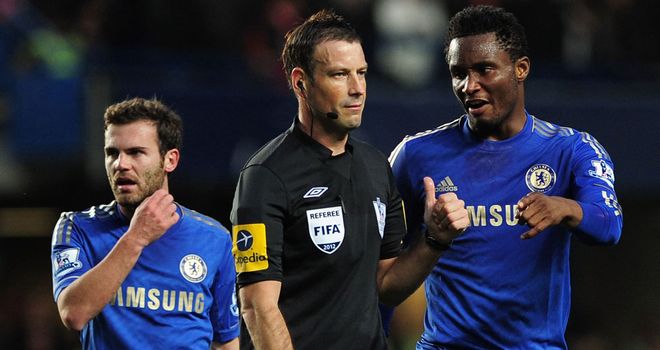 Clattenburg was accused by the European champions of making comments which are understood to have been interpreted as racist during Sunday's Premier League game at Stamford Bridge.
Chelsea made an official complaint to the match delegate, whose report appeared to have been passed to the FA.
A statement from English football's governing body read: "The FA has begun an investigation relating to allegations made following Sunday's fixture at Stamford Bridge between Chelsea and Manchester United (Sunday 28 October 2012).
"The FA will make no further comment at this time."
Clattenburg was at the centre of events in south-west London, sending off Branislav Ivanovic and Fernando Torres with the score at 2-2 and United went on to secure a dramatic late 3-2 success against the nine men through Javier Hernandez.
An FA probe was almost inevitable the moment Chelsea made their allegation against Clattenburg, who has vowed to co-operate fully with the authorities.
That process looks set to involve Clattenburg, Mikel and Mata all being interviewed by FA compliance officers, who are likely to speak to other potential witnesses.
Those could include other Chelsea and Manchester United players and will almost certainly see Clattenburg's assistants and fourth official asked to provide evidence.
Clattenburg, Michael McDonough, Simon Long and Michael Jones all wore microphones and earpieces on Sunday, although their conversations were not recorded.
Technology could yet be used as evidence though if video or audio footage emerges in support of either Clattenburg or his accusers.
The probe could also examine an 'extraordinary incident report' understood to have been filed by Clattenburg. These are submitted by referees on matters that may require FA intervention.
The Professional Game Match Officials confirmed the referee would not officiate a match this weekend stating: "that with any football match the focus should not be on the officials but on the players and the game itself".