Mark Clattenburg stood down as FA investigates Chelsea allegations
Mark Clattenburg has been pulled off duty this weekend as the FA investigates claims he used "inappropriate language".
Last Updated: 29/10/12 8:05pm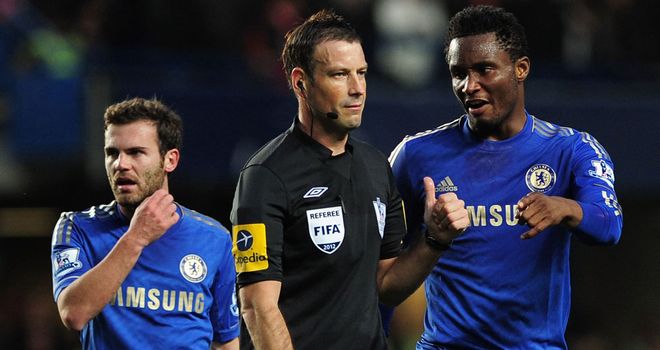 An official complaint from Chelsea alleges the referee twice overstepped the mark in separate incidents during the club's 3-2 home defeat to Manchester United on Sunday.
One of the incidents under investigation is understood to have involved Blues midfielder John Obi Mikel.
Clattenburg has promised to co-operate with the FA's ongoing probe, but in the meantime he has been stood down by the body which regulates top-flight officials.
A statement from the Professional Game Match Officials read: "We believe that, with any football match, the focus should not be on the officials but on the players and the game itself.
"Mark Clattenburg is one of the elite referees in world football and, in these circumstances, the intense level of scrutiny would detract from the match and be unfair to the clubs and the supporters of both sides."
Clattenburg wore a microphone at Stamford Bridge to help him communicate with his three assistants, who are all likely to be interviewed as the FA seeks to establish what was said.
The referee, meanwhile, is thought to have submitted an 'extraordinary incident report' - usually filed on matters that may require FA intervention.
And referees' union Prospect released a statement which read: "Prospect is offering full support to Mark Clattenburg in relation to the allegations made against him. It is now important that the allegations are fully investigated."