Radamel Falcao happy at Atletico Madrid but unsure of future
Radamel Falcao has admitted his future is out of his control but insists he is not thinking about leaving Atletico.
Last Updated: 30/10/12 7:21pm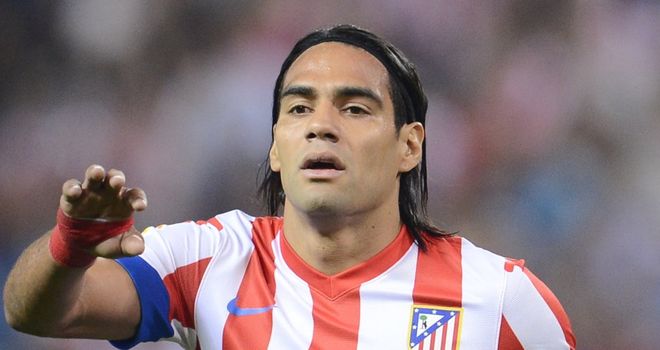 The 26-year-old has been heavily linked with both Real Madrid and Chelsea after scoring 13 goals in nine appearances to help propel his side to second in the Primera Division table, behind Barcelona on goal difference.
He is staying focused on performing as well as he can for Atletico for the remainder of the season, but appreciates it will be up to the club to decide whether he is then sold.
"I am calm. I don't even know what I'm doing tomorrow," Falcao said when asked by Ball Point about being linked with Real Madrid and his plans for next season.
"I am happy here and enjoying things at present. I am not thinking about leaving, only in playing this season, and I hope everything goes well.
"The club has needs and it depends on certain results. There are many factors. The economy of the club, entering the Champions League.
"Later, Atletico and the responsible people will decide what to do with my future. Many times the players are the last to know."
Falcao is delighted to have made the 23-man shortlist for the FIFA Ballon d'Or, but admits it was disappointing that Atletico boss Diego Simone did not make the list for the Coach of the Year award.
"He made many merits to be (on the list)," Falcao said. "He had no time to prepare last year and immediately put a run together. Thanks to him we were about to enter Champions League. It is a shame they do not recognise this.
"I am very grateful to be on the list."