Chelsea make formal complaint to FA over 'inappropriate comments' by Mark Clattenburg
Chelsea have lodged a complaint with the FA regarding comments allegedly directed at John Obi Mikel by Mark Clattenburg.
Last Updated: 01/11/12 6:54am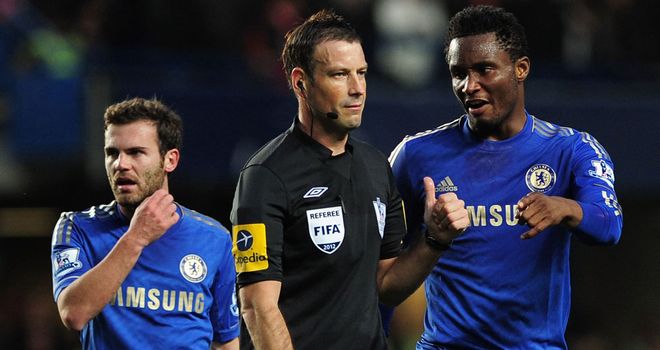 Clattenburg is under investigation by the Metropolitan Police and the FA after alleged comments to two players during the Blues 3-2 defeat to Manchester United.
The other player believed to be involved was Juan Mata but Chelsea have dropped that complaint following an internal investigation carried out by external legal counsel.
Chelsea said in a statement: "Following Sunday's Premier League game against Manchester United, club board members were quickly made aware, upon entering the home dressing room after the final whistle, that there were allegations of inappropriate language directed at Chelsea FC players by Mr Clattenburg during the game.
"Board members began establishing the details of the allegations, speaking to all relevant players and staff. After those initial interviews, it was clear that the matter had to be reported.
"The correct protocol for doing so was to report the incidents to the match delegate, and the club took immediate steps to inform him as soon as he was available. It was not a decision the club took lightly.
"Since reporting the matter to the delegate, the club and outside legal counsel have conducted further investigations.
"Having completed that process, we have now followed the correct protocol and lodged a formal complaint with The FA regarding John Mikel Obi.
"There was not sufficient evidence to support a second claim to the FA with regard to the alleged verbal abuse of another first-team player."