Liverpool defender Martin Skrtel wants to stop Fernando Torres from scoring for Chelsea on Sunday
Liverpool defender Martin Skrtel is determined to stop former Reds team-mate Fernando Torres scoring this weekend.
Last Updated: 09/11/12 1:38pm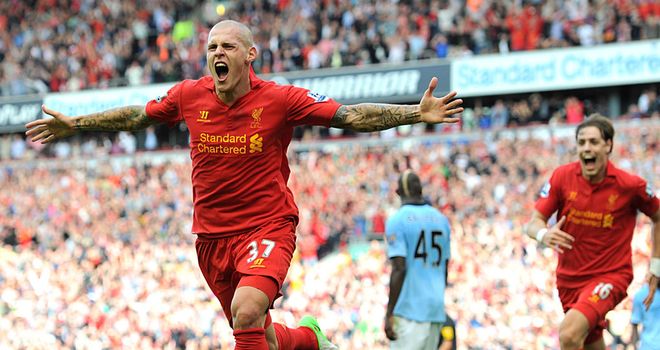 Torres, who has scored seven goals this season, has yet to score against his old club since his big money switch from Anfield to Stamford Bridge in January 2011.
Skrtel is relishing the prospect of trying to keep Torres quiet knowing the Spaniard will pose a major threat to Liverpool on Sunday.
"Now he is playing for Chelsea and if I play I will be marking him," Skrtel told Liverpool's official website.
"It's going to be special but we have to look after him because even if he isn't scoring goals at the moment he is still one of the best strikers in the world and still dangerous.
"We have to keep our eye on him for 90 minutes and not let him score.
"I haven't seen Chelsea play too many times this season but from what I've heard his performances are better than last season.
"It's going to be hard playing against him but I believe in my qualities and the quality of our team and I believe we won't let him score."
Asked if he would rather score himself or stop Torres scoring, Skrtel added: "Definitely stop Fernando scoring a goal because as a defender the main job on the pitch is to stop the striker scoring and try to keep a clean sheet.
"I always look forward to every single game I can play for this club. These big games are special and Sunday will be special."
Skrtel has been impressed by Chelsea's start to the campaign, but he believes Brendan Rodgers' side can go to Stamford Bridge and take all three points.
"They got a few wins and played good football," noted Skrtel. "They are close to the top of the table and it's going to be a tough game. Games against Chelsea are always tough and this one is going to be the same and we just hope we can get the three points.
"They have got a good team and a lot of attacking players but we will go there and try to play our game and if we can continue with the performance we gave in our last game against Newcastle and play our game with a lot of movement, a lot of passing it could be good against them.
"We need to change the small things and take our chances because I'm pretty sure we will create chances there.
"Every single game is different and it's going to be different on Sunday. The game always starts at 0-0 and it's about our performance on the day. I hope our performance will be better than Chelsea and we can get the three points."