Referee Mark Clattenburg will not know outcome of FA probe into Chelsea complaint until next week
Referee Mark Clattenburg will not know the outcome of the FA probe into the Chelsea complaint until next week.
Last Updated: 19/11/12 5:11pm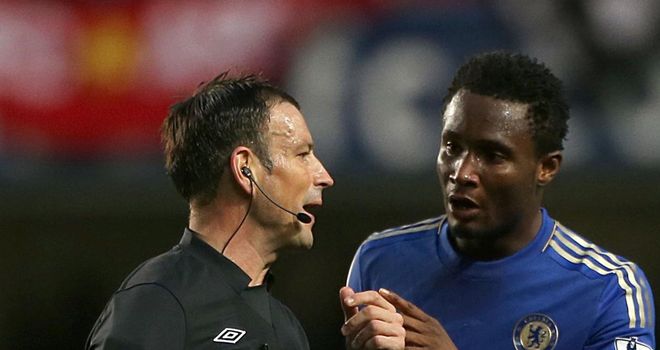 It means the official looks set to miss a fourth weekend of matches even if the governing body announces that no action will be taken.
Chelsea have alleged that Clattenburg used inappropriate language, believed to have been interpreted as racist, towards midfielder John Obi Mikel during the 3-2 defeat by Manchester United on 28 October.
The allegations have been strongly denied by Clattenburg.
The FA has interviewed several Chelsea players including Mikel, as well as Clattenburg, the two assistant referees Michael McDonough and Simon Long and fourth official Michael Jones.
An independent QC is studying all the evidence in close detail before recommending a decision.
This week the FA was accused of being "institutionally racist" by the chairman of the Society of Black Lawyers for not referring the alleged comments by Clattenburg to the police with Peter Herbert saying enough had not been done to investigate the complaint against the referee.
FA chairman David Bernstein hit back by calling Herbert's comments "ill-informed and unhelpful".
Chelsea boss Roberto Di Matteo rejected any concerns the ongoing investigation would affect his players and also insisted it was being handled by the right people.
The Metropolitan Police dropped their investigation on 13 November into Clattenburg's alleged comments because there was no evidence an offence was committed during the match at Stamford Bridge.
"It is in the hands of the FA and they are the right institution to conduct the investigation," Di Matteo said.
"They are doing it and I think that's right."
Chelsea chairman Bruce Buck's defence of the club's actions has caused concern with the PGMO referees organisation, who believe the London side should not have gone public over the issue before the FA had reached its conclusions.