In his own words
From Rafa's Rant to priests on sugar mountains, Mr Benitez is always good for a verbal soundbite/grenade. In the past he's never been afraid to duke it out with Sir Alex and co, so expect pressers at Stamford Bridge to be decent value between now and the season's close...
By Alex Dunn - @skysportsaldunn
Last Updated: 23/11/12 6:36am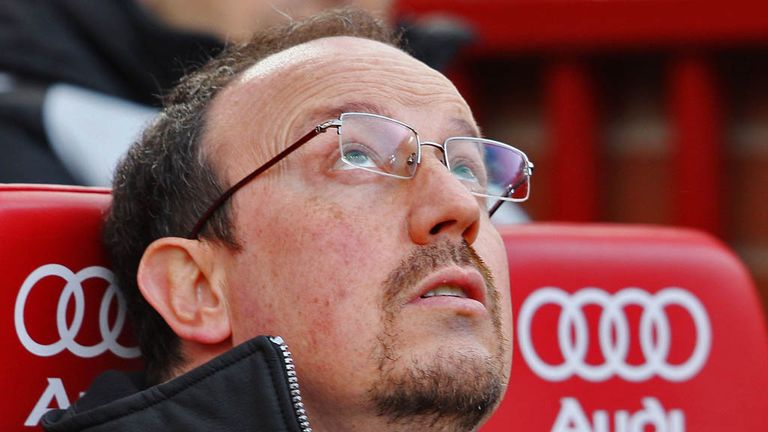 From Rafa with love
"I am a very proud man today because all managers like to arrive at the best clubs and we know Liverpool is one of the most important clubs in the world."
"It feels as if I have been on a permanent honeymoon since I arrived here; I am on a cloud and I feel as if with Liverpool I have found the love of my life."
"Before, I said that they (Liverpool fans) were maybe the best supporters in England. Now maybe they are the best supporters in Europe."
"I can say Liverpool is a joy. My office here is 20 metres long and eight metres wide, it is bigger than the oval office in the White House. I can see the training grounds and it's incredible, like being in another world."
Old friends
"I am not in football looking for friends, I want to win trophies. If the big rival of Liverpool Football Club is just thinking about me months after [leaving] that is quite positive. It means we were doing something well."
"I was going to the [2006 Champions League] final in Paris - Barcelona v Arsenal - we were (Benitez and Sir Alex Ferguson) together in the bar and it was quite interesting because we were friends. But when we were close to them we were not friends. It's football and I will say I don't want to be friends. If he wants to have a good relationship fine, but I want to win trophies."
"He's (Mourinho, at Inter) not here anymore, but if everything was so perfect then why did he leave? Why did he choose to join another team?"
"I am sure Chelsea do not like playing Liverpool. When they are talking and talking and talking before the game it means they are worried. Maybe they're afraid?"
Talking tactics
"I need to know why after all the problems in the game there was only three minutes."
"I remember Sir Alex sent me a letter of congratulations when we won the Champions League, praising the tactical changes we made at half time."
"I try to relax when I am watching a game but it is something you cannot change, you are analysing the game. You are watching what will happen and why it is happening. I'll be watching with my wife and I'll say 'goal' then two seconds later it's a goal. Because you can see the positions of the defenders, the winger may be free or the full-back goes late or something like that. So without thinking too much, you are just analysing."
"I don't sleep too much, for example. I wake up early in the morning and watch games. Normally now you have games on Monday, on Tuesday, Wednesday, Thursday, Friday, and Saturday and Sunday. So you have every day during the week and at the weekend you can see the Spanish league normally has two games, and the Bundesliga one or two, and Serie A another two. So with the Premier League you can see maybe six or seven games on Saturday and on Sunday more or less the same."
FACT
"I want to talk about facts. I want to be clear, I do not want to play mind games too early, although they seem to want to start. During the Respect campaign - and this is a fact - Mr Ferguson was charged by the FA for improper conduct after comments made about Martin Atkinson and Keith Hackett. He was not punished. He is the only manager in the league that cannot be punished for these things. How can you talk about the Respect campaign and yet criticise the referee every single week? We know what happens every time we go to Old Trafford and the United staff. They are always going man-to-man with the referees, especially at half-time when they walk close to the referees and they are talking and talking. All managers need to know is that only Mr Ferguson can talk about the fixtures, can talk about referees - and nothing happens.
FACT
"We need to know that I am talking about facts, not my impression. There are things that everyone can see every single week. To complain and to always have an advantage is not fair. Two years ago we had a lot of early kick-offs away on Saturdays when United were playing on Sundays. And we didn't say anything. Now he is complaining about everything, that everybody is against United. But the second half of the season will see them playing at home against all the teams at the top of the table, it is a fantastic advantage.
FACT
"At Christmas, United played on the 29th and the rest of the teams played on the 28th. We were away against Newcastle two days after playing Bolton. They were playing about 40 hours later, but they were not complaining then. If he wants to talk about fixtures, and have a level playing field, there are two options if we don't want more problems with fixtures. Sky and Setanta have the right to choose their games and it will be the same for everyone. So Mr Ferguson will not be complaining about fixtures and a campaign against United. Or there is another option. That Mr Ferguson organises the fixtures in his office and sends it to us and everyone will know and cannot complain. That is simple."
Ghost goal
"Luis (Garcia) said to me that as he turned away, he was right on the line, and he said the ball was over the line. And after the game my secretary Sheila, who was sitting right in line in the main stand, said to me that the ball had crossed the line. She is a very honest person and that was good enough for me. It was a goal."
Stand-up guy
"Winning trophies has made me put on weight."
"I talk to Carra, if you can understand him you can understand anyone."
"Fabio (Aurelio) will be out for three weeks, so Riise knows he has to be ready and give everything for us. The best solution would be for him to score at Stamford Bridge... in the right goal."
"The other day, he (Steven Gerrard) wanted to play but he was only able to look to the right, so I told him he could play as a left winger! We'll see if he can turn his head round and look the other way now. We will talk together, with the doctor. The player will say he wants to play, but there's an easy way of finding out whether he's fit. I will come up and tap him on the left shoulder and if he turns to face me without any pain, we will know he can play."
"How can you tell your wife you are just popping out to play a match and then not come back for five days? [on test cricket]"
Seagulls, sardines & trawlers
"I feel that Mr Hodgson he doesn't understand. Every single press conference is worse than the last one. He's talking about things he doesn't know. Some people cannot see a priest on a mountain of sugar. He doesn't understand, maybe he has been in the job for not so long."
"I was watching the fans and I was really sad after the defeat the other day. We have a saying in Spanish, which is: 'White liquid in a bottle has to be milk. What does this mean? It means that after 86 points and finishing second in the league, what changed? The Americans, they chose a new managing director and everything changed. So, white liquid in a bottle: milk. You will know who is to blame. White liquid in a bottle. If I see John the milkman in the Wirral, where I was living, with this bottle, I'd say, 'It's milk, sure.'"
We need to talk about Torres
"I'm confident it (Liverpool sell Torres) will never happen. If it did, I'd resign."
"I think last year we were talking about £70m. People were talking about maybe you receive an offer from another club. They were talking about £70m. He was not playing at the same level the last time, but he is still a very good player. It is big money but could [have been] even better."
"When you talk about the Premier League you talk about a lot of players with quality so it is not easy to pick just one, but he is among the best."
"Torres knows the Premier League and he was doing really well with that. It's a question of confidence and he will do well again. He will come back."
Final thoughts...
"If Chelsea are naive and pure then I'm Little Red Riding Hood."
"I don't think I have the words to express how I feel at this moment."