Chelsea boss Rafael Benitez admits Chelsea squad are tired and plans to rotate
Roberto Di Matteo's lack of squad rotation has left Chelsea on the verge of burnout, according to Rafael Benitez.
Last Updated: 01/12/12 3:21pm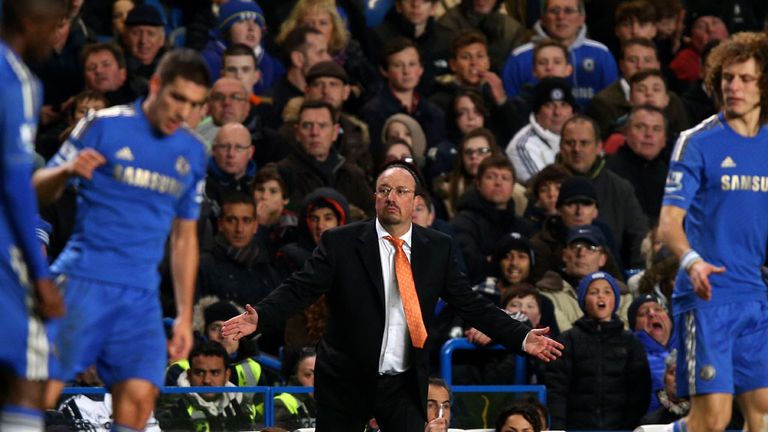 The Spaniard was called into the boardroom to give his verdict on a first week at the club which brought back-to-back goalless draws and abuse from sections of his own supporters.
And the new interim boss heads to West Ham for Sky's lunchtime kick-off on Saturday, desperate for his first victory to help appease the disgruntled fans.
Benitez admits he told Roman Abramovich that Di Matteo's over-reliance on a core group of players has left the squad struggling to cope with the weight of fixtures even before the Christmas programme kicks in.
Chelsea's UEFA Champions League defence is at risk of ending at the group stage, and the Manchester clubs have opened a significant lead on the rest domestically.
Benitez said: "My idea is to use the squad. We had too many players playing almost every game. Others hadn't had too many minutes.
"You cannot play two or three games in eight days and be fully fit. You lose some pace and energy.
"We had a board meeting and I explained what I'd seen. I'm not here to criticise, but that's the reality. We will be stronger as a team and a squad if we juggle them.
"You can see the team needs to improve physically. You cannot do that if they play two games in a week."