David Luiz claims he is a natural leader and wants responsibility at Chelsea
Chelsea defender David Luiz is ready to take on more responsibility at the club and claims he is a natural leader.
Last Updated: 12/12/12 8:51am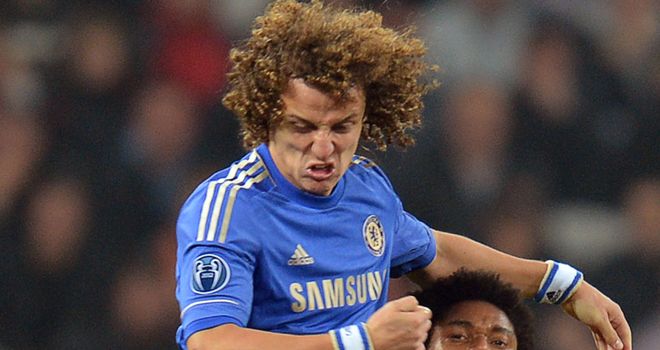 The Brazil international has been in fine form for the west London club and, on the eve of the Club World Cup in Japan, he is ready to step up to fill the void left by injured skipper John Terry.
"I was captain at Benfica at 21," said Luiz. "I know my personality is to be a natural leader.
"So I know now that, at this moment, with the team's leaders of many, many years out of the team, I need to take responsibility of the team myself and try and help the young players.
"I don't have a problem with that in bad moments. I always say my shoulders are broad and I can take that extra responsibility.
"I love it. I want it. I prefer to take it on myself to help the other guys, who can go and play with their heads clear and calm.
"I can play with this added responsibility. I enjoy it."
Midfield
That responsibility could include moving into midfield given that Oriol Romeu has been ruled out for six months with a knee injury and the Brazilian has no problem with that scenario.
He added: "If the manager wants me as a striker, a right-back, a winger... I'll do anything to help the team. This is my philosophy.
"I play for the team and, if I'm needed to play in other positions, I'll try my best. I've played football for a long time. I know other positions.
"I know what wingers need to do because I see them doing it all the time in games and training, so if someone asks me what I need to do as a winger I'd know.
"I was in a different position against Nordsjaelland on Wednesday, the manager pushing me upfield a bit.
"He said I was one of the top five in terms of my fitness in the team, so I can help the other guys to control games like that.
"We were winning 5-1 so I could be box to box, helping out the team. I just want to help Chelsea."
Confidence
Luiz has been a big help to Chelsea in recent weeks as new boss Rafael Benitez looks to improve things defensively at Stamford Bridge and the 25-year-old is eager to continue in that vein.
"The last four games, I've played really well, at the top level and with confidence," said Luiz. "I need to continue this work and mentality.
"This is a big club. If I played for a club in the middle of the table, I could make mistakes in games, three or four times, and no one would notice because the analysis is not at the top level.
"But when you play for a big club, they analyse you at the top level. Every little mistake is highlighted. Every day work, work, work.
"This is the key to football. Because if you don't, other guys work more than you do and they kill you."
Don't miss any live and exclusive football coverage this festive season. Click here to visit Sky Sports' Festive Calendar