Chelsea midfielder Oscar happy with his progress since move from Internacional
Oscar feels he is coping well with life on and off the pitch at Chelsea four months after swapping Brazil for England.
By Tim Oscroft
Last Updated: 12/12/12 11:45am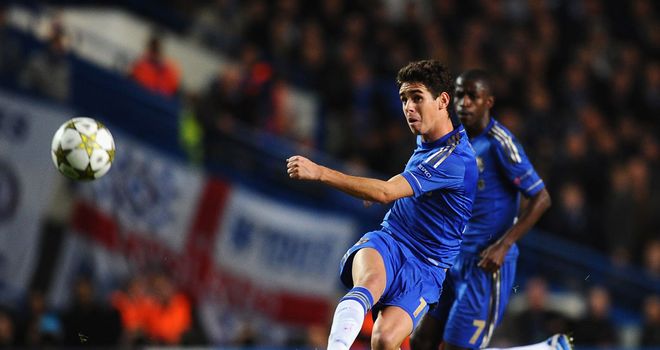 The 21-year-old midfielder moved to Stamford Bridge from Internacional in his native country in late July and has gradually featured more on both the domestic and European stages.
The midfielder's performances in the Champions League stood out in an otherwise unhappy defence of the title won last May, with five goals including a pair in his first start for the Blues, against Juventus.
"I started off being eased into the team, and then I started my first match in the Champions League against Juventus and scored two goals," said Oscar.
"Since then, I have been a regular in the first team, which has been great and something I really appreciate.
"I'm very pleased with how I've adapted to the move and everything, so far, is going very well. The only problem I have is the language. However, I'm picking it up quite quickly, I'm learning and I can communicate quite well with most of my team-mates.
"I think in England the league is more competitive and slightly more intense.
"The biggest difference between the two leagues is that over here it's more dynamic, whereas in Brazil it's probably a bit more technical. The pace of the game in England is frenetic, but I love playing here."
Oscar is in Japan as Chelsea prepare for their Club World Cup semi-final against Monterrey of Mexico on Thursday, and the Brazil international is adamant that the Blues are keen to claim the trophy won by his former club in 2006.
"I think we are all taking this competition very seriously. It's a very important trophy for every club and for the career of every individual," he added.
"We are going to prepare for the competition extremely well, and the fact that it's the first time the club have taken part makes it even more important."