Chelsea's Frank Lampard is happy to see goalline technology in action
Frank Lampard is looking forward to seeing new goalline technology in action at the Club World Cup.
Last Updated: 13/12/12 1:01pm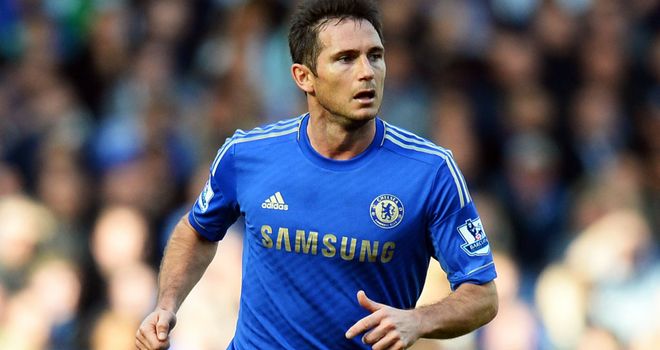 The 2012 European champions face Mexican side Monterrey in Japan where they will come across goalline technology for the first time as they will taste the GoalRef system, with Hawkeye the other system being tested by Fifa.
Lampard is looking forward to the new technology, and said: "I think it will add magic.
"We all want calls to be 100 per cent right, whether it goes for or against your team and it will clarify what has happened to everyone - and it will be pretty exciting.
"It's been quite a long time coming, so many crucial goals over the last few seasons in club and international football. It's too important an issue to let it go any more. It's a no-brainer to bring it in and make the calls correctly."
Lampard has seen first-hand how much the new technology could benefit a side, after he had a clear goal in England's 2010 World Cup last-16 defeat to Germany ruled out.
"Of course, it was such a high-profile game in the World Cup, England against Germany, and such a blatant case of the ball crossing the line. It made everybody sit up and take notice a bit," he said.
"Certainly, it would've been a different game. We talk about an emphatic defeat, but if it had been 2-2 at half-time, we would've had the momentum and we could've played without having to chase another goal straight away.
"It would've been a different game. Whether we'd have won, you never know. It was painful that summer but football changes. I've moved on. It still catches the nerves a bit when I see it but I can't dwell on that."
Criticisms
Other criticisms of the technology include suggestions it undermines the authority of on-field officials.
Lampard said: "I understand (Michel) Platini is trying to evolve the game rather than bring in drastic changes - that's his prerogative.
"But, for me, you need to respect the referee with every decision. We're asking for a clear decision on goals, which is the most important part of the game.
"With the speed of the game at this level, you can't ask any human to make that call correctly every time."
Lampard did agree with UEFA president Platini that the use of technology should not be extended.
"If you tried to use it everywhere then Platini would be right," he said. "On this one, I very much think it should be brought in, but that's it."
Balls
One issue raised by Lampard's team-mate Gary Cahill was that the balls, which with GoalRef will include a mirco-chip, seem harder.
"It just felt like it was heavy," said Cahill.
"The lads might have pumped the ball up too much. But they are all right. We have played with them for the last few days so everyone is fine with them now.
"It determines 100 per cent whether it is a goal or not, so it is a positive thing. It also helps the referees because their job is hard enough as it is.
"So it is good to have a little helping hand which ultimately concerns huge moments in the game and huge turning points in the game."