Rafael Benitez seeking further improvement from Chelsea despite win over Monterrey
Rafael Benitez admits he is looking for further improvement from Chelsea after the 3-1 victory over Monterrey.
Last Updated: 13/12/12 11:57pm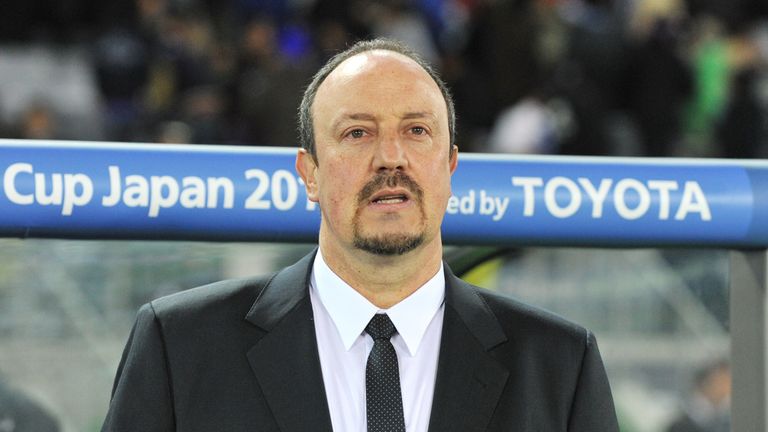 The Blues qualified for the final of the Club World Cup with strikes from Juan Mata, Fernando Torres and an own-goal by Darvin Chavez before a last-gasp consolation from Aldo de Negris.
Although Benitez was satisfied with Chelsea's overall performance at the sparsely filled Nissan Stadium in Yokohama, he was concerned by the late lapse.
Benitez said: "I'm not very happy with the goal we conceded. We won, which is fine, but still these little things can make a difference in a final, for example.
"When I talk about a winning mentality, always I talk about little details making the difference.
"The team has to think about winning, winning in style and not conceding because the goalkeeper likes clean sheets.
"They have to keep their concentration right to the end of the 90 minutes. That's what they need to do."
Benitez, who suffered defeat to Sao Paulo while in charge of Liverpool seven years ago in a game his side had dominated, warned a repeat could cost Chelsea dearly in Sunday's final against South American champions Corinthians.
"You have to take your chances," said Benitez, who watched his players waste several first-half opportunities.
Three matches without a win have now been followed by a hat-trick of victories by the man who still could not escape the ire of some Chelsea fans, despite being so far from home.
"Now the team knows what we want to do," he said. "They have more confidence and are enjoying their football a bit. We still need more time to keep improving."
Confidence
Chelsea's upturn in fortunes has corresponded precisely with that of Torres, who scored for a third successive match for the first time in his Stamford Bridge career.
"He's a bit sharper, has more confidence and the team's playing well," said Benitez, who admitted Torres could have done better with other chances that came his way.
"It's a run, and that's good for him and good for us. Hopefully it will continue. If we continue creating chances, he'll carry on scoring.
"We haven't done too much differently. We've analysed his movement and fitness, but it's not been a massive difference.
"He has more confidence so it's easier for him when the team creates a chance to score. And the team is creating more chances, which means he'll have more opportunities to score."
Benitez stuck to his vow to field a strong team against opponents predicted to offer little resistance, his only selection surprise seeing defender David Luiz start in midfield for the first time.
"It's an option for the future, but it was mainly for this game," Benitez said. "I know David from Benfica, where he was playing centre-back, left full-back, right full-back, in many positions.
"David is quick and can regain a lot of balls and, at the same time, can play passes to our players."
Benitez was taking nothing for granted ahead of a final Chelsea will also be expected to win.
"You can never be confident when you play a final, because anything can happen," he said. "We have a good team and some experience too, but we need to win against any team.
"Corinthians will be tough, difficult, and Brazilian teams are good teams. We are ready and can do it, but we need to play the game."
Don't miss any live and exclusive football coverage this festive season. Click here to visit Sky Sports' Festive Calendar