Chelsea midfielder Frank Lampard buoyed by revitalised spirit at Stamford Bridge
Chelsea midfielder Frank Lampard says renewed team spirit is responsible for a resurgence in form.
Last Updated: 02/01/13 8:05pm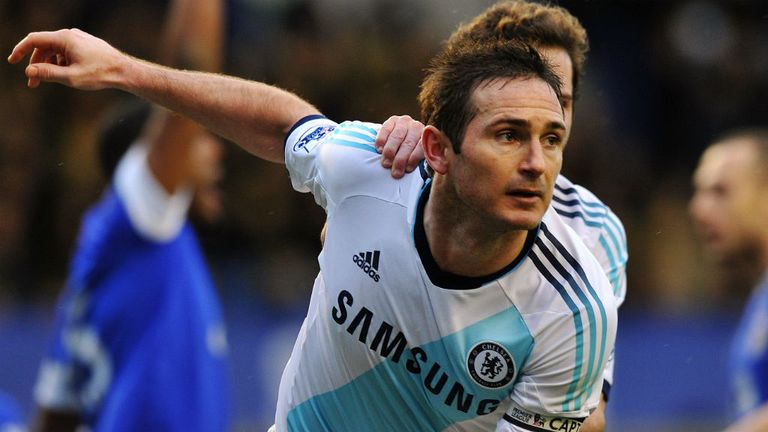 Speculation continues to mount over the future of the 34-year-old with few signs that the club are keen on extending the player's contract.
But after coming through a dramatic year that saw the sacking of two managers, as well as winning the UEFA Champions League, four successive victories have clawed the London side back into the Premier League title hunt.
"For me the biggest change is in our attitude," Lampard told Chelsea TV.
"We go in to games with the desire not just to pass and move the ball around. The attitude is to get close, to work hard for your team-mates and to have a spirit about you. If we have that then we can do what we want."
But with Chelsea still trailing Premier League leaders Manchester United by 11 points, Lampard knows there is no room for slacking off at the start of the new year.
"We do have to win these games," Lampard added ahead of Wednesday's local derby with QPR.
"That's the position we put ourselves in, because we had that funny run through November and December. We were top and all of a sudden we are adrift but you can't look back at that. We have to be positive now.
"We need to put a long winning run together. We have started doing that in recent weeks."
New interim boss Rafa Benitez appears unwilling to offer the England star a new contract and Lampard is determined to battle on, if given the chance on the pitch.
"I need to play to go on a scoring run," he said. "There is a squad and you must respect that, but I'm the same as anyone - when you I get on a run in the team I get more confidence and I score goals.
"The manager has played me generally since I have been fit to be fair to him. If I can contribute to games and keep fit I will be more than happy."
One man who doesn't think Lampard will be offloaded is his uncle - Harry Redknapp.
The QPR boss said: "I can't see him leaving. I would be surprised if he left Chelsea.
"I haven't discussed it with Frank. I would be surprised if he left Chelsea. I think his heart is at Chelsea, the fans absolutely idolise him.
"He is still a top player - two goals at Everton again the other day. He is an amazing goal-scoring midfielder so I still think there is every chance that he will still be at Chelsea next year."
Chelsea will again be without captain John Terry for the visit of struggling Rangers as he continues to struggle with his comeback from a knee injury.
The Blues are also without goalkeeper Petr Cech, who came off at half-time during Sunday's 2-1 win over Everton with an adductor injury.