Rafael Benitez insists he wants the pressure of winning trophies at Chelsea
Rafael Benitez claims he prefers the pressure of having to win every game at Chelsea to life in the middle of the table.
Last Updated: 20/01/13 5:48pm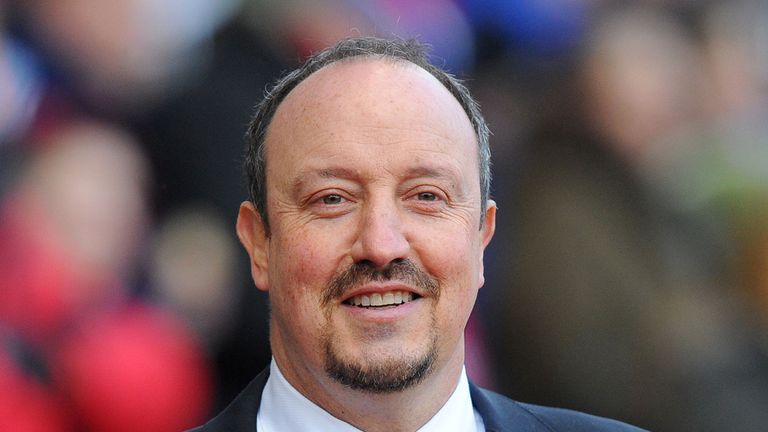 The Chelsea interim boss remains in the firing line at Stamford Bridge as he prepares the Blues to face Arsenal on Sunday - but he insists he enjoys the challenge.
"I like to be always under pressure to win a trophy - I come from Real Madrid where even finishing second is unacceptable," said Benitez, quoted in The Sun.
"To be in the middle of the table and stay there for 10 years is not my idea. For me, you have to do your best every time.
"Football has changed since the arrival of people with big money in the Premier League.
"It used to be OK to manage with common sense. To have a good manager like Arsene Wenger was fine and you could achieve things.
"Now it's a different world because of the clubs with big money. You can't compare the game to how it was 10 years ago."
But the Spaniard is keen to stress his words should not be interpreted as a slight on Wenger - a man he has the utmost respect for.
"I have a good relationship with Arsene," added Benitez. "He is one of the best managers in England, if not the very best, for what he has achieved and the way he has done things.
"He has won a lot in his time and that means his club has confidence in him. He did well when he first arrived, the style of football was good and the board and fans were happy with him.
"People talk about him not winning trophies any more, but he is still a great manager doing a great job.
"He has to keep doing things his way even if it is too difficult. Hopefully he will keep doing well for another four years, but not this weekend."
Top team
Benitez is looking forward to the Super Sunday clash as he feels the Gunners are unlikely to put men behind the ball.
"Arsenal are a top team and they won't play with 11 men behind the ball on the edge of their penalty area like some of our recent opponents," said the 52-year-old.
"They have used the same style of football for the last few years and I don't think they will change too much.
"But they are quite good tactically when they prepare for games against other top sides. Arsene is quite clever and can organise his team in a good way so it won't be a very open game on Sunday."
Future
As for his own future, Benitez knows that he needs positive results to strengthen his own position in the summer.
"When I signed with Chelsea I knew I was joining until the end of the season," he added.
"If we are doing well then maybe it would be easier for people to be interested in me and maybe for the owner to say: 'Stay longer'. But all I am thinking about right now is the game against Arsenal.
"If we win, it will make things easier for everyone and I'm sure the supporters will be happy."