Chelsea star Eden Hazard told to learn how to control himself by Belgium FA chief
The chief executive of Belgium's FA says Eden Hazard must learn to control himself after kicking a Swansea ballboy.
Last Updated: 26/01/13 10:49am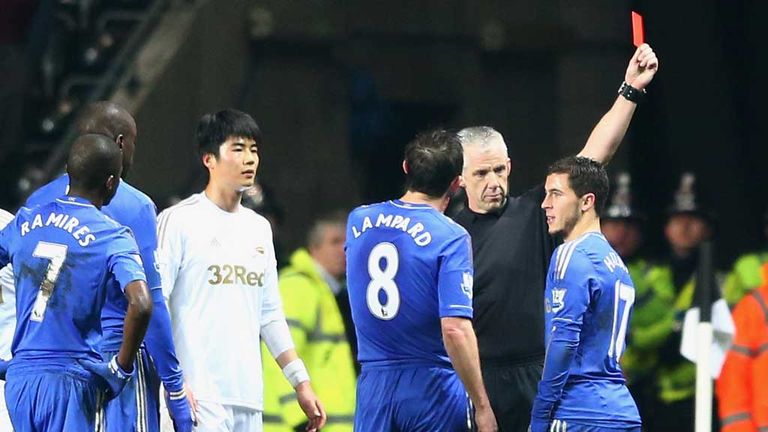 The Chelsea attacking midfielder was dismissed by referee Chris Foy after he lost patience during the closing stages of Wednesday night's Capital One Cup semi-final second leg at the Liberty Stadium.
With the ball out for a goal-kick, Swansea ballboy Charlie Morgan fell to the ground as Hazard attempted to get the ball from him, with the Blues forward then kicking it out from under him but also making contact with the 17-year-old.
It is not the first time Hazard's frustrations have got the better of him - in 2011 he stormed out of the stadium after being substituted during a Euro 2012 qualifier for Belgium and was filmed tucking into a burger from a van outside.
Steven Martens, the chief executive of the Belgian FA said: "It's unfortunate and of course it's not something we are proud of. No football authority or person interested in football likes to see acts of violence or lack of respect and this is what happened.
"It might have happened in the heat of the fire but professionals are expected to be able to control themselves.
"They have to be able to control their emotions and when they don't that's unpleasant in general.
"Of course as we are the Belgium FA we don't like it to be a Belgium national squad player but I am very much convinced that Eden himself will realise that.
"Eden is more than intelligent enough to understand that this is going to be a lesson learned for him.
"All of us make mistakes in life."
Martens, speaking at a meeting of UEFA's 53 member associations in Nyon, said Hazard's frustration was perhaps a reflection of the intense pressure on his shoulders.
He added: "It is easy to judge from outside but you also have to see it from the player's side too.
"I have been a professional sports coach for many years and the demands on athletes and players are there day-in, day-out.
"Yes we think these guys are well-paid and have a luxury life but on the other hand there is an expectation on them all the time.
"It's not an excuse but it is something that could help us try to understand."
Martens said the incident with the 17-year-old ball boy was far more serious than Hazard's burger-eating escapade.
He said: "That was nothing in comparison. He was disappointed to be taken off the pitch and then walked out of the stadium out of frustration but came back in again afterwards."